Dallas IFF Review: LUV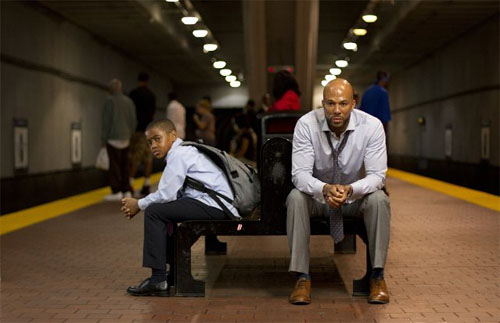 It's a shame that a film like Training Day already exists, and although Denzel Washington deserves all of the accolades he received for that role, LUV is a very similar film with a similar feel but a much more impacting story. Rapper turned actor Common turns in just as good if not better a performance here in his role as a forced-upon mentor to a young child. The nine-year project of burgeoning filmmaker Sheldon Candis, who previously proved to be a very good short film director, LUV is a film that feels more genuine than Training Day. Although the comparison might be a bit unfair and definitely simplistic, it's a better film than even that obvious a description.
Woody (Michael Rainey Jr.) is a shy 13-year-old who lives with his slightly senile grandmother. He puts up a good front to all those around him except for his uncle Vincent. Vincent (Common) is a recent parolee and when he realizes his nephew has a lot to learn about life and being street smart, he takes him along on a day when he's trying to set up a legitimate business. One thing leads to another and Woody gets a different type of education than he ever bargained for.
The film rides gracefully on Common's performance and it really is his greatest performance to date, but without such a good performance from Rainey as Woody, LUV would have gone nowhere fast. Rainey plays the part wonderfully of a kid who understands the events happening around him while still being an innocent 13-year-old kid, and it's elevated by how much his character loves his uncle, despite the bad situations he's constantly put in. Despite how wrong Vincent's method of mentorship is to his nephew, Common takes command of this role like he's never done beefore.
Along with this pair of great performances is a truly amazing scene with Dennis Haysbert and Charles S. Dutton. Haysbert hasn't been in much other than Allstate insurance commercials lately, and after seeing the film and his performance in it, subsequently fired those that advised him against doing this film. He wants to do more movies, and LUV shows why that is a very good idea on his part.
Coming-of-age tales aren't unique at this point in cinematic history. It's a story we've all seen, and seen done to death. That shouldn't take away the brilliance of LUV. This film has heart, the way a lot of films forget to do these days. It's a true passion project from a filmmaker who based the story on his own experiences with his uncle. It may not be the most relatable coming-of-age story out there, but LUV does an excellent job of putting us in the front seat to experience a unique and great story.
Austin connections: One of the producers is Austinite and UT alum Caroline Connor, who also produced the upcoming Austin film Pictures of Superheroes and Dallas IFF selection The Brooklyn Brothers Beat the Best.