Josh Frank and the Future of the Blue Starlite Drive-In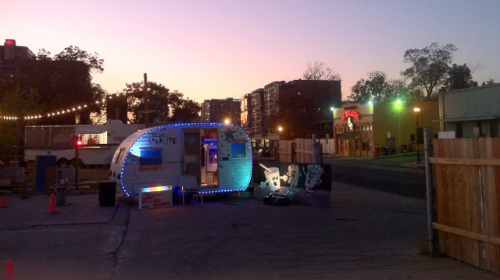 Last week we heard rumors that the Blue Starlite Mini Urban Drive-In Theatre might be relocating in the next couple months, so I asked the mind behind the Blue Starlite, Josh Frank, for confirmation. Following is our email Q&A about plans for the future of the Blue Starlite, as well as the ideal next spot for this urban drive-in.
Slackerwood: Is it true that the lot where you are currently located has been sold (with a requirement that you vacate in two months)? If so, what are your thoughts on leaving that spot?
Josh Frank: Ok, so, yes it's true. ESDI at 1001 E. 6th with our Blue Starlite and the food trailer court is closing at the end of May. We are bummed as it was a perfect spot for this "version" of our drive-in. People liked it and it was a great set up for the Urban Drive-in, both visually and operationally.
We always knew it would eventually happen, but the owner is a really cool guy who loves film and believes in the Austin spirit and the fact that supporting small businesses will eventually lead to making a lot of money on condos and that neither are mutually exclusive. So we were very lucky to find this situation. We always knew that it was an in-between place for us as we looked for the perfect place to find permanence.
It also has given us time to tweak the mobility of the drive-in which we have always felt was important to its survival. As the urban landscape is always changing, so an urban drive-in needs to be in many ways, on wheels! The timing also works well as we were planning on going seasonal this year and not toughing out the heat of the summers or the dead of winters.
Now that we don't have to because people know we are here now, so we can count on them coming during the seasons we are open! This summer also is going to be the first summer we test our drive-in vision out in some other places in the country to learn even more about how to make the Mini Urban Drive-in better.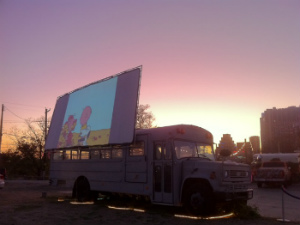 What are your plans for after the April shows/spring program? If you are planning to do pop-up shows, what locations/cities are you considering?
Frank: Right now we are looking at Dallas, The High Rockies, Miami, and yes, some "pop-up" places in Austin. Still hoping for East Side but it's just hard because space is very limited and Urban Drive-ins have certain spatial and lighting requirements that we have to consider.
Our ideal location/dream pop-up would be at an abandoned car dealership. The architecture of them is perfect for an Urban Drive-in, however most of those are located around 183 in Austin anyway, and we aren't sure we want to go that far away from our beloved city skyline.
As far as the possible brick-and-mortar location, are you hoping to stay in the same area of town, or are you looking elsewhere?
Frank: Again, it really depends on land! I'd say my dream would be to have a nice city view. So East Side is good for that as is upper Congress. There are some great spots off IH-35 above 8th Street in Austin, or maybe in a whole other city! I have always dreamed about on the hills overlooking Austin's capitol.
I'd say a city view would be key to a brick and mortar. Lucky for us, my second in command is a architect by day. So he is actually designing our plans, based on our vision for the drive-in of the future that is city-based, then we will go out to investors and attempt to wow them into joining our cinematic crusade.
Anything else you'd like to share?
Frank: The only reason we are still doing this after 2 years is that people keep coming back 2, 3, 4, 5 times. New people keep driving in every week and people are always coming up to us telling us how wonderful what we are doing is. We all still have day jobs, but somehow we have never lost money on the venture and it's still a lot of fun so we keep opening the gates.
We take the whole thing very seriously because our patrons and fans do, and as long as they do, we will! You know you're onto something when even the coolest of the cool hipsters, who may or may not have never been to a drive-in before, and the old timers who grew up at the drive-in come up to you and say, "This is the coolest thing."
Photos courtesy Josh Frank.
[Editor's note: Special thanks to contributor Debbie Cerda for bringing us the news about the lot being sold and thus inspiring this interview.]