Movies This Week: Between Festivals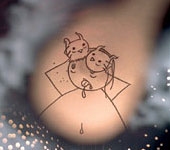 Fantastic Fest is finally over, and Austin Film Festival is still a few weeks away. Now's the time for local film-fest geeks to catch up on the mainstream movies they've been missing (pssst ... go see Burn After Reading). Or maybe it's time to look beyond the film festivals and find all kinds of interesting events occurring in the next week or so. Here are a few screenings you might not want to miss.
Austin Film Society is going outdoors at just the right time of year. On Wednesday, you can watch Dirt Road to Psychedelia for free at Republic Square Park -- live music at 7 pm, movie starts at 8 pm. This documentary about Austin during the 1960s and 1970s sounds like lots of fun.
In fact, why not make a night of it on Wednesday? After you finish your movie in the park, head over to Alamo at the Ritz at 9:30 pm for a free double-feature from 1960s exploitation filmmaker Joe Sarno: Abigail Lesley is Back and All the Sins of Sodom. Sarno will actually be at the screenings, too.
If you haven't yet seen The Unforeseen, Laura Dunn's documentary about the history of development around Barton Springs, you've got an opportunity to catch it in the ideal setting on Thursday night. AFS, the City of Austin, and Alamo teamed up to screen the movie at Barton Springs itself. Better still, stick around after the doc to see one of Luke Savisky's projection installations. A very good deal for $3 admission.
Tickets are now available for "An Evening with Don Hertzfeldt" on Friday, Oct. 11 at Alamo on South Lamar. Hertzfeldt is very popular in Austin and I imagine this event will fill up fast. The animation filmmaker will screen and discuss a number of his short films (as pictured above), including a regional premiere of his latest film I Am So Proud of You, a sequel to Everything Will Be OK.
But wait! You're going to have a really tough choice on Oct. 11, because you could alternatively go to Alamo Ritz and see the Flaming Lips' movie Christmas on Mars, with Flaming Lips member Wayne Coyne in attendance. If you saw local filmmaker Bradley Beesley's documentary about the Flaming Lips, Fearless Freaks, you might have spotted some sets and scenes from this film. Beesley is listed as a co-director on Christmas on Mars, too. Tickets are on sale now, as this is also sure to be popular.
Finally, I wanted to note that the next film fest in Austin is not Austin Film Festival; it's the Austin Asian American Film Festival, which takes place from October 9-12 at Alamo Ritz and Village. You can buy a full-access badge now for $45, which is a good deal for a full weekend of films and events. They're also selling tickets for individual films.