SXSW Review: The Do-Deca-Pentathlon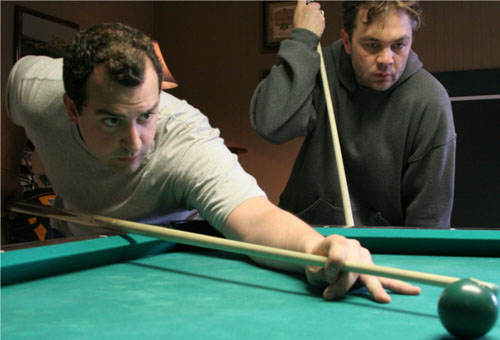 Austin locals and indie film champions Jay and Mark Duplass have always stayed true to their philosophical roots. This is evident in every movie they've made. The only difference as you go along their filmography in chronological order is that they are able to secure more famous acting talent than the movie prior to it. Despite the enormity of talent they're able to bring in, every film still manages to be charming and full of heart.
The Do-Deca-Pentathlon will be about as close as you can get to the Duplass brothers going back to their true roots. They filmed it immediately after Baghead in 2008, and it stars one of the same actors. After Baghead, they signed a deal to make Cyrus, and they've been two of the hardest working filmmakers in the business ever since. They were thrilled to finally show this movie to an audience.
In 1990, Mark (Steve Zissis) and Jeremy (Mark Kelly) embarked on the brotherly competition to end all brotherly competitions, the do-deca-pentathlon. The 25-event competition would declare the winner the champion of all time, but when they were tied, the final event ended in controversy due to some interference from a well intentioned father. This started a feud between the brothers that Mark never got over. Fast forward to when the brothers are now adults. Mark has a beautiful family and Jeremy is a professional poker player. On a weekend getaway for Mark's birthday, Jeremy comes back and antagonizes Mark into doing the do-deca again, much to the chagrin of his Mark's wife Stephanie (Jennifer Lafleur).
There isn't much more to the story than that. The Do-Deca-Pentathlon has no raunchy gags or sex jokes the way a lot of comedies from a big studio with a similar plot would come up with. It's just a wholesome story, and you can tell the care with which the Duplass brothers treat their films and their cast. The humor is genuine and it's done in a way that I'm sure we can all relate to when it comes to family drama.
Steve Zissis does a remarkable job leading the film, and his character arc is hilarious. Mark Kelly, as the irresponsible brother, has great moments in the film despite how unlikeable his character is. He's more annoying than he is unlikeable, though. He knows his brother has buttons, and he knows how to push them, and despite how uncomfortable it makes everyone else, he'll keep pushing with funny results.
With The Do-Deca-Pentathlon, the Duplass brothers continue to prove that their movies are worthy of being paid attention to. If you haven't heard of them by now, you might be swayed to check out their films if you know that Mark Duplass is one of the hilarious members of The League on FX. These guys know humor, and they know it in both subtle ways like this film and many of their others, but there are moments in The Do-Deca Pentathlon where, if your brand of humor is loud and boisterous, those things are prevalent.
Austin connection: Mark and Jay Duplass attended The University of Texas at Austin and subsequently lived in Austin for awhile. Although they grew up in New Orleans (where most of this movie was shot), they've remained loyal to their ties here in Austin. If you've missed them this festival, don't worry. They'll be back.