SXSW Review: Safety Not Guaranteed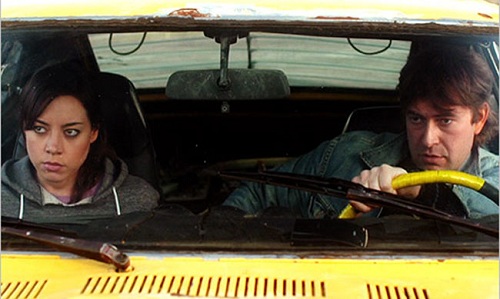 If you could go back in time, where would you go and who would you go with? That's the main question that comes to mind after viewing Safety Not Guaranteed, which had its regional premiere at SXSW this week. This film was a Waldo Salt Screenwriting Award winner for writer Derek Connolly and Grand Jury Prize nominee for director Colin Trevorrow at this year's Sundance Film Festival. Safety Not Guaranteed is the feature-length narrative debut for both Connolly and Trevorrow. The movie's script is based on an actual classified ad that became an internet meme in 2005 after being featured in Jay Leno's "Headlines" segment on The Tonight Show.
Magazine writer Jeff Schwensen (Jake M. Johnson) pitches a far-fetched story to his trend-setting editor Bridget Bay (Mary Lynn Rajskub) to investigate the author behind a cryptic want ad looking for a time travel companion -- "Must bring your own weapons. SAFETY NOT GUARANTEED." Jeff recruits young interns Arnau (Karan Soni) and Darius Britt (Aubrey Plaza) to assist him in his assignment, but it turns out that he has an ulterior motive: The location is his hometown, where he hopes to reunite with a high-school fling.
Arnau and Darius stake out the post office and succeed in tracking down Kenneth (Mark Duplass), a paranoid supermarket employee who claims to have built a time machine with which he's already traveled back in time once. Jeff evokes suspicion from Kenneth, who chases him off his property, so it is Darius who must gain enough trust to become Kenneth's time-travel companion. This turn of events allows Jeff the time that he needs to seek out and reunite with his lost love, as well as live vicariously through Arnau's potential first sexual encounter.
This plot twist also places Darius and Kenneth on the center stage of Safety Not Guaranteed. As Darius gains Kenneth's trust, she begins to open up her own emotions to him -- although not without some stumbles along the way, as she must determine whether he suffers from paranoia and schizophrenia, or is truly able to time travel.
Safety Not Guaranteed weaves comedy, romance, suspense and science fiction into a heartfelt and engaging story where viewers root for the characters. Typically I am not a fan of the dead-pan delivery of Plaza, but her characterization of Darius is so well balanced that it's easy to sympathize with her character. The well paced writing fuels the comedic moments, with a rollercoaster of laughs from the audience at times.
Performances from the entire cast is flawless -- Rajskub's caricature of Bridget Bay is a younger modern amalgamation of the Absolutely Fabulous characters of Patsy Stone and Edina Monsoon. Newcomer Karan Soni is endearing in his portrayal of a young, inexperienced man trapped in a sheltered college life mapped out by his traditional family. Duplass is engaging in his portrayal of the complex and often confusing Kenneth, and Plaza is just as effective as a young woman who hasn't been happy in a very long time. I personally don't usually find the dry and snarky comedic style of both Johnson and Plaza to be all that humorous, but writer Connolly and director Trevorrow have created a delightful vehicle within which the entire cast of Safety Not Guaranteed shines.
Be sure to catch the touching and humorous Safety Not Guaranteed at SXSW or when it opens in theaters in June 2012.
Austin/Texas connections: Executive producer and star Mark Duplass is a former Austinite.
If you missed the SXSW premiere of Safety Not Guaranteed, you can catch it at its additional screening on Tuesday, March 13, 7:30 pm at SXSatellite: Alamo Slaughter.