Inconceivable? Alamo's 'Princess Bride' Event and Signature Wines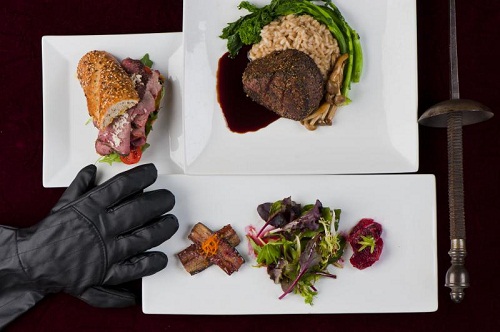 The Alamo Drafthouse has combined several of their signature events -- a quote-along, a feast, and Sommelier Cinema -- and taken them to a new level with "The Princess Bride Feast," taking place on February 14 and 15 in Drafthouse locations around Texas. In addition, they're also launching yet another business endeavor -- this time involving wine.
If the special sneak preview that Austin press were treated to recently was any indication, the Princess Bride feast is sure to be the hottest ticket item for food, film and wine lovers this Valentine's Day. Tickets for the Feb. 14 event sold out so quickly that additional screenings were added for the following day. Personally, I prefer to avoid the busiest romantic day of the year and recommend you buy tickets for the available February 15 screenings.
Be advised that for this signature event you are not only allowed but encouraged to talk during the screening (if it's related to the film, of course). The Alamo Drafthouse's Action Pack has added subtitles to their favorite Princess Bride lines in key places, but you can quote along for as much or little of the movie as you like. The Action Pack has other special surprises to make the Princess Bride a date night to remember.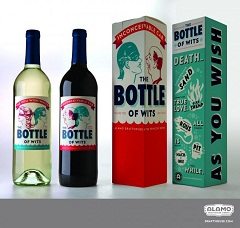 The spotlight of the event is the wine selection -- not just because Drafthouse Beverage Director Bill Norris has paired some incredible wines with Executive Chef John Bullington's menu, but because two of the wines were created exclusively for Alamo Drafthouse. In honor of the 25th anniversary of Princess Bride, the Drafthouse has launched the "Bottle of Wits" signature Princess Bride Wine program in honor of the iconic battle of wits scene between Westley and Vizzini. The inaugural wines include As You Wish White, a surprisingly complex wine with tropical fruit notes, and Inconceivable Cab, a full-bodied 2009 California Cabernet. The wines will be available at Alamo Drafthouse locations starting Feb. 14.
As a wine enthusiast, my expectations weren't too high as I usually find signature wines created for restaurants to be pedestrian, lacking in depth and character. However, the first thought in my head as I tasted As You Wish White was, "Wow! Bill picked a great white selection for this course, what winery made this fabulous wine?!", as I momentarily forgot which wine was in front of me. This medium bodied white wine's acidity is nicely balanced with a lovely citrus finish.
Inconceivable Cab is a versatile robust medium-bodied wine, wonderful on its own but also holding up nicely and complementing the main course food pairing that evening. I loved the dark fruit flavors, especially the hint of plum and currant and well-balanced tannins and acidity, and the apparent American oak aging by subtle oak in the nose and vanilla in the finish.
Although I typically prefer red wine over white, I have to credit Bill Norris with expanding my palate with The Skin I Live In tapas and wine pairing selections and also the Kila Cava sparkling wine served as an apertif at the Princess Bride feast. The one wine selection of this event that I felt was under-appreciated by the audience was the final selection of Niepoort Tawny Port, as I observed several unconsumed glasses. If you are a port fan, be sure to save room -- and if not, give this sweet smooth fortified wine a try!
The Princess Bride Feast features one of John Bullington's most elaborate and creative menu selections that I've enjoyed at the Alamo Drafthouse. The first course of a MLT with smoked mutton "sliced paper thin" had an incredibly flavorful truffle aioli, and the blood orange vinaigrette drizzled alongside the Screeching Eel Salad was equally tasty and featured local greens from Bullington's personal gardens.
The defining moment of the feast was the Seared R.O.U.S., a New York strip steak rubbed with tellicherry peppercorn, mustard seed and espresso, and served in a pool of port demi atop roast enoki mushrooms, with mushroom risotto and grilled rapini. The menu descriptions state "roasted medium rare," but pulling off timed service to a theater full of filmgoers had me doubtful. Once again I was proven wrong -- not only was my Seared R.O.U.S. still hot, but it was the perfect medium rare, with a warm red center and the risotto freshly plated and warm.
Chef Bullington's dedication to Princess Bride in his gastronomic homage is most evident by the final course -- Twue Wuv Truffles, remarkably resembling Miracle Max's miracle pills. These dark chocolate truffles rolled in cacao nibs and caramel crisp with peanut creme and candied strawberries were a perfect end to a feast befitting a true princess bride and her beau, or just lovers of Princess Bride, S. Morgenstern's (and William Goldman's) timeless "classic tale of true love and high adventure."