Slackery Booze Tidbits, January 23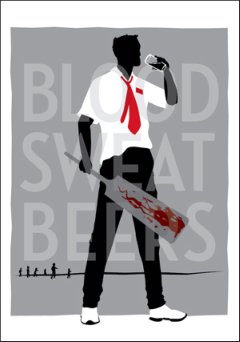 A few more film-and-alcoholic-beverage news items and upcoming events came to my attention after this month's Film on Tap feature, so I thought I'd share them:
The Alamo Drafthouse announced last week that the grand opening date for "Alamo Slaughter," their newest theater located at Mopac and Slaughter Lane, will be Thursday, March 22. The eight-screen theater will feature an adjacent stand-alone cocktail lounge named 400 Rabbits, which along with their full selection of fine spirits will offer a plethora of tequila-centric drinks and Latin American-inspired food creations. Alamo Drafthouse is offering an advance taste of the menu with a special tequila-paired five-course dinner Saturday, February 4, at The Highball, that has already sold out. Stay tuned for other preview events.
Alamo Drafthouse also announced last week that the fifth annual Off-Centered Film Fest will take place April 19-21, 2012. Co-hosted by Dogfish Head Craft Brewery, this annual event is a three-day festival for beer and film lovers. Submissions are being accepted for the short film competition, and the theme this year is "Western, Off-Centered." Rules and submissions instructions are available here, and the deadline is Monday, March 5. New to the fest this year is an audience award, with film submissions available for viewing and voting prior to the awards ceremony.
The Paramount Theatre is hosting a Shaun of the Dead Pub Run + Screening on Tuesday, January 31, with a pub run at 6 pm and screening at 7:30 pm. The 1.1 mile jog from the Paramount to the Texas State Cemetery and back shouldn't be too tiring, but if you're dying of thirst Hops & Grain will be available at the pit and final stop. Proceeds benefit Team Spiridon and the Paramount Theatre. A $15 ticket will get you film admission, complimentary Hops & Grain beer, a limited edition Austin Marathon messenger bag, small popcorn -- plus a BLOOD SWEAT BEERS specialty t-shirt for the first 50 people to arrive. Register online here.