Lone Star Cinema: What's Eating Gilbert Grape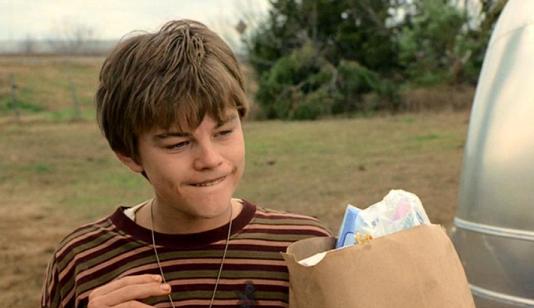 With the Oscar nomination buzz surrounding Leonardo DiCaprio for his titular performance in J. Edgar, it's a good time to take another look at a Texas-made movie from early in DiCaprio's career, the terrific What's Eating Gilbert Grape.
Released in 1993, director Lasse Hallström's highly praised film follows the Grape family, a close-knit but intriguingly dysfunctional clan living in the fictional Iowa town of Endora (although actually shot in Central Texas). Gilbert Grape (Johnny Depp) spends much of his time watching over his mentally retarded younger brother, 17-year-old Arnie (DiCaprio, in an Oscar-nominated performance), while his sisters, Amy (Laura Harrington) and Ellen (Mary Kate Schellhardt) slave away in the kitchen. Ruling the roost is the siblings' widowed, depressed and morbidly obese mother, Bonnie (Darlene Cates), whose girth and mental state have prevented her from leaving the family's rural house for years.
Gilbert does not resent being his brother's caretaker, but Arnie's lack of self control and penchant for getting into trouble when unsupervised are a burden. Climbing the town water tower is one of Arnie's favorite unsupervised activities, testing the goodwill of the increasingly annoyed local police. When not helping Arnie, Gilbert works at the town's dying grocery store (a supermarket is opening soon) and entertains himself however he can within the confines of Endora. One source of entertainment is an affair with local homemaker Betty Carver (Mary Steenburgen), whose clueless husband constantly pesters Gilbert to buy life insurance for his family.
When an annual influx of vacationers passes through town on their way to a nearby campground, Gilbert meets Becky (Juliette Lewis), who's stranded in Endora with her grandmother when their truck breaks down. A budding romance ensues, but Gilbert's difficult circumstances threaten to get in the way. Arnie's behavior takes a turn for the worse on the eve of his 18th birthday, and greater tragedies lie ahead. Gilbert finds himself wrestling with a classic cinematic conflict, torn between his desire to be with Becky and his family commitments.
What's Eating Gilbert Grape was a critical darling, a nuanced, thoughtful, beautifully rendered movie with a broadly appealing story and a host of sympathetic characters. It remains a memorable film in many ways, but is probably best remembered for 19-year-old DiCaprio's outstanding performance as Arnie. He's entirely believable as the sweet-natured teen, whose mental disabilities seem to frustrate him as much as they do his family. Arnie is arguably the most challenging role of DiCaprio's career, and I consider it his greatest acting achievement.
I would recommend What's Eating Gilbert Grape for DiCaprio's performance alone, but the rest of the film is just as worthy of a download or DVD rental. The film has been released several times on DVD; I recommend the Paramount Special Collector's Edition for its many extras.
Among the extras are a commentary track with Hallström and writer Peter Hedges; The Characters of Gilbert Grape, featuring interviews with Hallström, Hedges, Depp, DiCaprio, Lewis, Cates and Steenburgen; The Voice of Gilbert Grape, in which Hallström, Hedges and Depp discuss taking Hedges's novel from print to screen; and Why We Love Gilbert Grape, in which cast and crew talk about their favorite filmmaking moments. The DVD also includes a theatrical trailer and photo gallery.
Austin/Texas Connections: What's Eating Gilbert Grape was filmed in Austin, Pflugerville, Georgetown, Manor (the water tower), Lockhart (the courthouse square) and Denton. Darlene Cates is from Borger, and other Texan actors appear in minor roles.