TAMI Flashback: Thunder Over Our Town Austin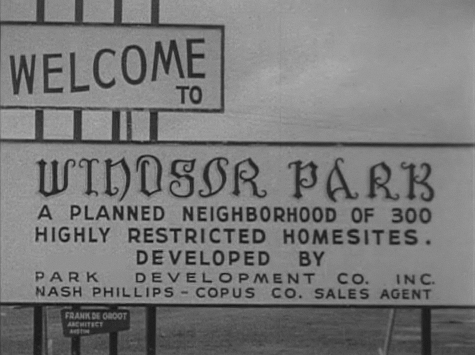 This article is the eleventh in a Slackerwood series about the Texas Archive of the Moving Image (TAMI) video library.
It is a pleasant city, clean and quiet, with wide rambling walks and elaborate public gardens and elegant old homes faintly ruined in the shadow of arching poplars. Occasionally through the trees, and always from a point of higher ground, one can see the college tower and the Capitol building. On brilliant mornings the white sandstone of the tower and the Capitol's granite dome are joined for an instant, all pink and cream, catching the first light. -- Billy Lee Brammer, The Gay Place
In The Gay Place, Brammer painted an astonishingly accurate -- if somewhat idealized -- portrait of the idyllic burg that was 1950s Austin, a city of "sweet curving streets and graceful sweeping lawns and the unequivocally happy sound of children always at play."
Many Austinites of the era no doubt shared Brammer's reverence for the River City, just as many of us do today. And few were more smitten than the producers of Our Town Austin, a relentlessly optimistic promotional film touting everything from Barton Springs to Austex Chili. While Our Town Austin's portrait of Austin is far less poetic than Brammer's masterpiece, the film presents the city in a similar light and is no less reverential.
Made in 1955 for reasons that aren't entirely clear (the answers may lie in the missing opening scenes), Our Town Austin is an odd but often priceless look at life in mid-Fifties Austin. It's a quintessential chamber of commerce-friendly film of the era, endlessly touting all that is good about our fair city. As I've said about other Austin films in the TAMI library, economic boosterism seemed to be the order of the day in mid-twentieth century Austin, as if the city longed to compete with Dallas and Houston for growth and prosperity.
To its credit, Our Town Austin presents an amazing number of local landmarks, from the Elisabet Ney Museum to Bergstrom Air Force Base to South Congress Avenue to Lions Municipal Golf Course. The film also captures many ordinary slices of Austin life, as its subjects go about their routines of working, shopping, recreating and spending time with their families, all to the tune of a bouncy orchestral soundtrack that shouts Austin is a happy, prosperous, modern city full of happy, prosperous, modern people! As in so many TAMI videos, the individual scenes may be mundane -- but the sum total is a must-see window on old Austin.
That is, if you have the patience to watch mystifyingly in-depth looks at various local businesses such as Calcasieu Lumber Company and Kelly Smith Cleaners. As dreamily nostalgic as Our Town Austin is, it packs about 20 minutes of useful information into a 55-minute running time. A film promoting Austin doesn't need to tell us the technical intricacies of building Built-Right furniture, making Polar Ice Cream or canning Austex chili; I suspect these extended (and rather dull) scenes are in the film because Our Town Austin is an infomercial for the businesses it profiles.
On the other hand, the plugs for local businesses are interesting in a Fifties progress-on-the-march sort of way. In this context, they're part and parcel of life in an era when America looked with great optimism toward a bright, shiny, technologically advanced and commerce-driven future. More than 50 years later, a film about chili canning and homebuilding (the homes have state-of-the-art asbestos siding!) isn't exactly gripping entertainment. But Our Town Austin does say a lot about Austin's -- and America's -- priorities at the time.
This text will be replaced
[View original at Texas Archive of the Moving Image.]
A far less reverential but far more amusing video from the same era is Thunder Over Austin. An episode of KTBC-TV's Project 7 series, this circa 1963 film explains the startling, thunderous sounds frequently heard in the skies above Austin.
The sounds were sonic booms, and the culprits were B-58 Hustler bombers breaking the sound barrier on training exercises out of Carswell Air Force Base in Fort Worth. Air Force officials considered Austin a "friendly target" -- a city perfectly suited for simulated nuclear annihilation, with a layout and terrain similar to not-so-friendly targets in places like the Soviet Union. (I'm sure that like most Americans of the era, Austinites were a patriotic lot, willing to do their part to keep America safe. But I can't help thinking they did not welcome their designation as "friendly targets.")
Like the ludicrous Target Austin (another outstanding TAMI video), Thunder Over Austin is now an unintentionally hilarious Cold War relic. Narrated by the ubiquitous Cactus Pryor, the film includes interviews with Air Force officials who calmly explain that sonic booms are nothing to fear; they may rattle your dishes and scare the holy bejeezus out of your dog, but they won't collapse your house or make you sick. (That is, physically ill. Whether they make you sick of the Military Industrial Complex is another matter.)
Of course, hilarity ensues when Pryor asks the opinions of average Austinites on the street. Probably by design (Pryor was a competent journalist, but an inveterate prankster), the interviewees aren't exactly an articulate or knowledgeable bunch. At best, they're misinformed about the nature of sonic booms. At worst, they come across as ignorant rubes. One elderly gentleman thinks sonic booms are warning signals to let people know that a war is about to happen. When asked if sonic booms cause skunks to turn loose, another man says, "I don't know whether it's caused skunks to turn loose now, but it's caused a few people I imagine to turn loose."
But despite their lack of information, the interviewees generally agree that while sonic booms are a nuisance, they're a sacrifice Americans must make to be safe from the Red Menace. In other words, letting loose once in a while is a small price to pay in the name of democracy and freedom.
Intertwined with the interviews is exciting promotional footage of B-58s on a simulated bombing run (courtesy of defense contractor General Dynamics, of course). To an ominous musical backdrop (it's sort of a cross between Ride of the Valkyries and the soundtrack of a bad Sixties sci-fi film), heroic bomber crews hurtle through the heavens at twice the speed of sound, drop their simulated nuclear bombs at precisely the right moment, and blast their simulated target to simulated smithereens. America is safe again. More importantly, so is Austin. (Good thing it was only a friendly target.)
Pardon my snark, but Thunder Over Austin is all a bit silly now, and Pryor narrates the show as if he thinks it's a bit silly, too. But silly or not, the film is yet another document of Lost Austin you won't want to miss. Enjoy it -- and be grateful we no longer need to put up with sonic booms.
This text will be replaced