Get Tickets to 'My Week with Marilyn' Sneak Preview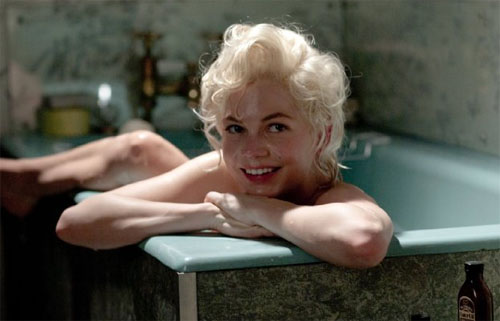 Slackerwood has a special deal that will give you the chance to see the upcoming movie My Week with Marilyn this week at a free sneak preview. There's nothing quite like seeing a movie before it opens in theaters ... and without having to pay for the tickets too. The preview screening will take place tomorrow night, Tuesday 11/15, at 7:30 pm at AMC Barton Creek (the one in the mall).
My Week with Marilyn is based on the memoirs of the same name by Colin Clark, who worked as an assistant on the Marilyn Monroe film The Prince and the Showgirl. It's about Clark's interactions with Monroe in England during the shooting of that movie. Michelle Williams stars as Monroe and Kenneth Branagh as Prince and the Showgirl co-star Sir Laurence Olivier. The cast also includes Judi Dench, Dominic Cooper and Emma Watson. We at Slackerwood haven't seen it yet -- it opens in theaters on Nov. 23 -- but some of us will be there Tuesday night to check it out.
After the jump, you'll find a promotional code and a link to the Gofobo website where you can enter that code to get an admit-two pass for the screening. Bear in mind this is a first-come, first-served pass and seating is not guaranteed. If you've been to preview screenings, you know that often more tickets are given out than there are seats in the theater, so you'll want to arrive early to stake out a good spot in line.
Are you ready to redeem your ticket? Go to www.gofobo.com/rsvp and where prompted, enter the code SLACKT27A. You will be taken to a page for the My Week with Marilyn screening. If you don't have a Gofobo account, you'll need to create one ... and many preview screenings in Austin now use Gofobo, so you can use the account for more free films in the future. After you sign up or log in, you'll get an admit-two pass that you should print and bring to the theater with you on Tuesday. Hope to see you there!