Lone Star Cinema: Dear Pillow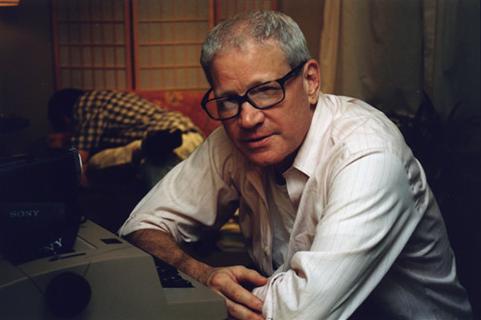 Society has long had a love-hate relationship with pornography. We often condemn it for reasons both moral and aesthetic -- but the porn industry has been thriving for decades, so somebody (not us or anyone we know, of course) must be buying all those dirty magazines and movies.
This often hypocritical relationship is the subject of Dear Pillow, one of my favorite Austin-made films of the last decade. Writer and director Bryan Poyser's engaging story about a friendship between an awkward teenager and a middle-aged writer of erotica is a frank, unflinching look at how adult entertainment reflects human sexuality.
Released in 2004, Dear Pillow is the story of pudgy, mop-haired teen Wes (Rusty Kelley), whose love life (okay, his sex life) isn't exactly on fire. He's your basic flop with chicks; the closest he gets to any real action is eavesdropping on the wireless conversations of a woman selling phone sex somewhere in his apartment complex. Wes's home life isn't much better; he shares a tiny apartment with his divorced father (billed only as Dad and wonderfully played by Cory Criswell), a loving but boozy and mostly inept parent whose idea of a suitable birthday present for his son is an evening at a local strip joint.
When Wes finds a misdelivered paycheck from a publisher of adult magazines, he meets the addressee: Dusty (Gary Chason), a greatly cynical gay man nearly old enough to be Wes's grandfather, who earns a meager living banging out Penthouse Forum-style erotic letters for the titular Dear Pillow magazine. Dusty quickly becomes a mentor of sorts for Wes, defending porn in all its flavors, proffering beer and sexual advice, and coaching Wes in his ham-handed attempts to write his own erotica.
Dusty and Wes also develop rather unconventional friendships with apartment manager Lorna (Viviane Vives); to avoid a spoiler, I won't discuss the nature of their relationships. I'll say only that they involve a business proposition and that Lorna is the sort of sexy older woman whom boys like Wes find alternately fascinating and terrifying.
Dear Pillow is every bit a talky, character-driven micro-budget indie; like the hapless Wes, the audience shouldn't expect much action. But thanks to Poyser's funny, often insightful script and astute direction, Dear Pillow is anything but dull, zipping along and making plenty of important points along the way. For Wes, Dusty and Lorna, pornography has all but replaced real intimacy, and their stories are dead-on commentaries on the roles porn plays in our society.
Dear Pillow also showcases a quartet of superb performances. As Wes, Kelley ably captures the sexual cluelessness of adolescence; he's a walking hormone-driven disaster, bumbling his way from one awkward experience to the next. Chason's Dusty is just as memorable, a font of sexual wisdom and a patient teacher who's not above exploiting a sexual situation to make a few bucks. Criswell does a convincing slow burn as Dad, whose generally tolerant parenting style grows less tolerant as his son spends more and more time with a gay man. Vives's loud and crude Lorna hides her loneliness behind a feisty sexual façade; obviously, she wishes she had better things to do than hang out with a gay writer of clichéd erotica and an oversexed teenager.
Although Dear Pillow garnered several awards on the festival circuit, it had a very limited release. (I was one of the lucky few to catch it when it screened at the Alamo Drafthouse in 2004.) Fortunately, it's available on an excellent DVD with a surprising number of extras, including a filmmaker commentary track by Poyser and producer Jacob Vaughan, an actor commentary track by Vives, Chason and Kelley, deleted scenes, audition tapes of Criswell and Vives, theatrical trailers, and production stills. The DVD also includes two of Poyser's short films, Grammy's (2007) and Pleasureland (2001), along with a project history and a statement from Poyser about porn and its significance in Dear Pillow.
Austin/Texas Connections: Poyser lives in Austin, and Dear Pillow was filmed in and around Austin with a local cast and crew. There are many familiar locations in Dear Pillow, including Wheatsville Food Co-op, the Stephen F. Austin Hotel, Lake Georgetown, Sugar's Uptown Cabaret, and the 2020 Condos on South Congress Avenue, next to Magnolia Cafe. Rusty Kelley is now a filmmaker himself, and worked with Austin School of Film on the "Coffee Shop" segment of Slacker 2011.