Review: A Very Harold and Kumar 3D Christmas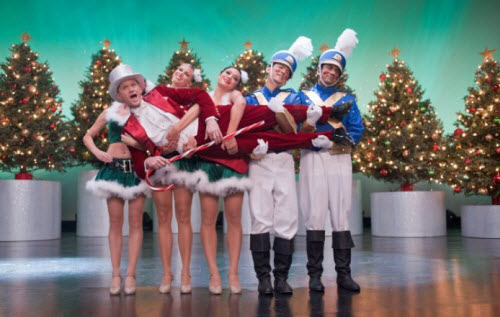 My husband and I share a special fondness for a particular kind of movie. While we dislike blatantly sentimental films ("triumph of the human spirit" is a taboo phrase in our home), we love films with a sweet but not sentimental heart surrounded by a completely offensive, shocking, even outrageous exterior. The films have to have at least a little cleverness and can't be too gross. One filmmaker whom we agree does this very well is Bobcat Goldthwait -- we both really liked World's Greatest Dad. Bonus points are earned when these movies tie into a holiday and still avoid treacle, as with Bad Santa.
And now, one of our favorite appalling-yet-delightful comedies has spawned a holiday sequel: A Very Harold & Kumar 3D Christmas. We don't like 3D, we don't like syrupy holiday movies, and yet this film had him laughing loudly and me spontaneously bursting out with my trademark "Oh, dear God" along with a few expletives of amazement. In the press row, natch. I apologize to my colleagues, although I heard some of them reacting with humor and disbelief as well.
A Very Harold & Kumar 3D Christmas opens on Christmas Eve, with the title characters estranged. Harold (John Cho) is working on Wall Street (there are protestors, how timely), he and Maria are married and trying to start a family, and his in-laws descend upon their fancy suburban home en masse, led by Maria's dad Carlos (Danny Trejo). Kumar (Kal Penn), on the other hand, is living in a crappy apartment, drowning his sorrows in weed after his girlfriend Vanessa left four months ago, saddled with an annoying roommate who's even less responsible than Kumar.
The plot's an old holiday standard: We know the two characters will somehow reunite, and Harold has a deadline to fulfill a specific Christmas-related task to win his father-in-law's respect and affection. We know Kumar's going to learn a lesson about responsibility and Harold's going to learn a lesson about being less uptight because that's what happens in these movies.
Fortunately, it's easy to be distracted from the predictable story elements by the incredibly inappropriate humor. A Very Harold & Kumar 3D Christmas has some of the most surprisingly outrageous humor I've seen in years ... actually funny stuff, not just images for shock value. I would love to share some of my favorite gags, but part of the entertainment value comes from the "You're kidding, they totally did not just show THAT" reactions experienced in many, many parts of the film.
As always, drug humor makes up a significant portion of the gags in A Very Harold and Kumar Christmas, but the weed smoking isn't as prevalent as it was in Harold and Kumar Go to White Castle. Jokes also target religion, race, age, and naturally Christmas itself. There are even a few sly references to what the lead actors have been doing since the previous film, and some allusions to the first movie for fans of the series.
And then there's Neal Patrick Harris. No Harold and Kumar outing would be complete without Harris, playing a character named Neal Patrick Harris. His character is less insane than in the second movie, but more in line with -- oh, hell, you're just going to have to see it for yourself. Rockette-like dancers are involved, is all I'm going to say.
A Very Harold & Kumar 3D Christmas would be worth the admission price alone for Harris and for the chance to see Danny Trejo wearing sweaters that may have been stolen from Bill Cosby, or perhaps Colin Firth in Bridget Jones's Diary. (And he's not the only badass in this film wearing such a sweater, either.)
However, the combination of the reunion of the title characters, played flawlessly by Cho and Penn, with the startlingly raw humor, works beautifully if you are a fan of the Harold and Kumar series. The same writers from the other Harold and Kumar films have scripted this one, Jon Hurwitz and Hayden Schlossberg. It's a vast improvement over the second movie, although not quite as charming as the original outing.
As for the 3D, it's just the kind I like -- the completely silly, cheesy use of 3D where items are flung or pointed at the audience. It's perfect for this movie, and I can't imagine the film without it. Pay the extra money and put on the annoying glasses.
As my husband noted after the movie, the best moment in A Very Harold & Kumar 3D Christmas may be the closing shot of Harold and Kumar. This particular moment landed the movie a spot of honor in that genre of films we both love. It could have been a very different kind of ending, blowing the balance of the movie entirely out of proportion, but instead it is a completely fitting close for the movie and, perhaps, for the series.
Confidential to Alamo Drafthouse: One of my favorite holiday traditions is seeing Harold and Kumar Go to White Castle at your theater during the Christmas holidays. While A Very Harold & Kumar 3D Christmas is a very funny movie, please please do not play it instead of the first movie this year or any subsequent year. It simply isn't Christmas for me without sliders and the quest for White Castle. Thank you.