TAMI Flashback: Blaine Dunlap Does Dallas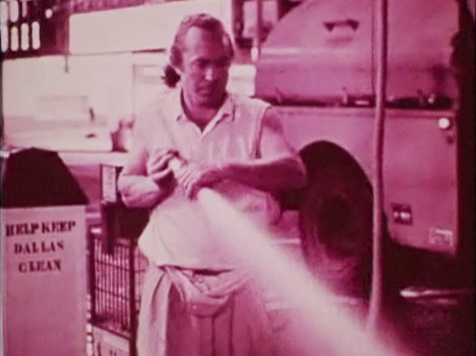 This article is the tenth in a Slackerwood series about the Texas Archive of the Moving Image (TAMI) video library.
This installment of the TAMI Flashback series ventures north to Dallas and back to the 1970s. It's a place and time I know all too well, having moved to Big D in 1971. (Dallas wouldn't have been my first -- or even tenth -- choice of places to live. But as a 7-year-old, I had no say in the matter.)
Ah yes, Dallas -- a city that is the anti-Austin in almost every conceivable way. But even über-Austinites like me feel a certain grudging nostalgia for our soullessly suburban Dallas childhoods. So I was intrigued to find two superb documentary shorts about Dallas in the TAMI video library, East Dallas, Summer, 1974 and Sometimes I Run. Both films are by Blaine Dunlap, a relatively obscure Dallas indie filmmaker of the era.
Dunlap grew up in Dallas and studied vérité filmmaking at Southern Methodist University, where he made Sometimes I Run as a student film project. He later worked at the Dallas PBS affiliate, KERA-TV, and continued making films about Dallas life, including East Dallas and Big D. He since has produced, written and directed many documentary and narrative films and now lives in New Orleans, where he devotes his time to preserving analog video recordings.
East Dallas may be a mere three minutes long, but it perfectly captures Dallas summers as I remember them, although my neighborhood was much newer than the one featured in the film. Narrated by Dunlap's mother, the short follows longtime East Dallas resident Florence Mayfield as she strolls around her neighborhood. Mayfield could be anyone's grandmother as she walks past the stately Woodrow Wilson High School (she was a Wilson graduate back in the day) to meet her granddaughter at a swimming pool.
"Summer afternoons like this seem like summer afternoons have always been," says the narrator, who also reminds us that change is inevitable. And therein lies the point of East Dallas, a dreamy, idyllic, sun-dappled trip to Lost Dallas that also embraces the passage of time. It's a beautiful three minutes of nostalgia and a testament to Dunlap's talent. (I especially like the swimming pool footage near the end.)
This text will be replaced
[View original at Texas Archive of the Moving Image.]
In contrast to the sunny environs of East Dallas, Sometimes I Run is a gritty examination of downtown Dallas in the dark. This remarkable 1973 film chronicles a night in the life of sidewalk flusher Stanley Maupin, whose job it is to wash downtown sidewalks while the rest of us are asleep. Maupin is a documentary filmmaker's dream, a wholly blue-collar armchair philosopher who gladly expounds on any subject.
As we watch Maupin walk Dallas's streets in the dead of night and hose away the grime of city life, he explains his world view in a somewhat ineloquent but nonetheless fascinating voiceover. For example, "Nobody's ever perfectly satisfied with a job -- just reasonably happy," Maupin tells us. "I've never found a job I've been happy on. But maybe I'm more happy on one job than I am on another. That's what you want to look for."
Maupin dispenses advice on many subjects, including where to eat in downtown Dallas, the secret to a good marriage, and how to find happiness in life. "If a man has happiness in his marriage, he can be pretty uncomfortable in a job, and he still leads a happy life," Maupin says. "If he's dissatisfied at home, it don't matter what that job represents. He doesn't have a good life."
Symbolism is not lost on Maupin, either. He points out a once-dying tree that he revived with his hose. "They said I was a fool putting water on it. It was under that ledge, it didn't have a chance. Somebody had to feed water onto it, it never gets any," he says as we see the now healthy tree. "But the tree come back to life. People can do that too. They can be completely dead. You put the right kind of water on them, and they come back to life."
The simple wisdom of Maupin's narration complements Dunlap's stunningly noir, blue-tinted black-and-white visuals. The nighttime views of the Dallas skyline are easily the most striking I've seen, all streams of headlights and streaks of neon and half-lit offices set against a pitch-black sky. Dunlap's sidewalk shots are just as masterful; they show a wee-hours Dallas of garishly lit stores and murky shadows, an unfriendly place inhabited only by Maupin, his fellow night workers, and scary, faceless characters who hang out in the darkness.
Add a lush and darkly beautiful score by Dunlap's fellow SMU student Ken Watson, and Sometimes I Run has the makings of a minor masterpiece. Beyond being a priceless document of 1970s Dallas, it's a grand achievement in filmmaking. I was smitten immediately the first time I saw the film a few months ago; as subsequent viewings have revealed more of its nuance and artistry, I'm no less smitten as I write this article. If you're a fan of TAMI or indie filmmaking, Sometimes I Run is required viewing.
This text will be replaced