Film on Tap: 'Beer Wars' and Beer Week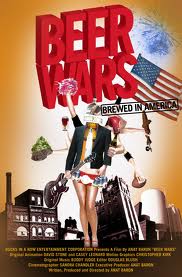 Welcome to Film on Tap, a new column about the many ways that beer (or sometimes booze) and cinema intersect in Austin.

October is always one of the biggest months for craft beer in Texas, and this year has been no exception, especially with the revival of the Texas Craft Brewers Festival here in Austin. The second annual Austin Beer Week is in full swing, with over a hundred events taking place from October 22-30 highlighting local breweries and brewpubs. Several movie-related beer events are happening at venues around town, including most of the Alamo Drafthouse locations.
North by Northwest Restaurant and Brewery is hosting a free screening of the documentary Beer Wars in the pavilion behind their restaurant at 8 pm tonight. Beer Wars explores the U.S. beer industry from the inside, revealing the truth behind the label of your favorite beer. Told from an insider's perspective, the film goes behind the scenes of the daily battles and all-out wars that dominate one of America's favorite industries.
North by Northwest is also paying homage to Spinal Tap's band member Nigel Tufnel on November 11 -- that's 11/11/11 -- with a a screening of This is Spinal Tap preceded by a special performance by a cover band.
Find out after the jump about other Austin Beer Week events, and why the screening of the "David versus Goliath" story in Beer Wars is quite timely for the Texas craft beer industry. I also share how Boston Beer Company -- one of the film's feature subjects -- and Flix Brewhouse are supporting the homebrew community in Central Texas.
The topics behind Beer Wars are extremely appropriate this week, considering the news yesterday that Authentic Beverages along with co-plaintiffs Zax Restaurant and Jester King Craft Brewery is sueing their regulatory agency, the Texas Alcohol and Beverage Commission (TABC), over beer and consumer freedom. The brewery and two co-plaintiffs filed a motion for summary judgment in federal court last week.
Outlined in detail in this press release, Jester King cites the Texas Alcoholic Beverage Code of being in violation of the 1st and 14th Constitutional Amendments, including disparities between restrictions for Texas beer industry that are not imposed on the wine industry, and antiquated labeling and marketing policies that redefine and inappropriately use terms that reference flavor and production method as a simple shorthand for alcoholic strength. With the failure of three critical proposals during the last Texas legislative session that never made it out of committee, the chances of Jester King and its co-plaintiffs winning their lawsuit may be slim ... but here's hoping a local filmmaker becomes interested in documenting this monumental story.
Alamo Drafthouse has started a "Meet the Brewer" happy hour series, featuring brewers from Jester King, Ranger Creek, Live Oak, and Austin Beer Works, winner of a silver medal at last month's Great American Beer Festival in Denver, Colorado. As part of Austin Beer Week, Alamo Drafthouse South Lamar is featuring some special cask tappings and adding extra Badass Beers to their tap and bottle selection. Check out their listings here and follow the Alamo Drafthouse Twitter feed @drafthouse. Jim Hughes of the Alamo Drafthouse reserves special casks and limited releases and allows them to age -- I heard via Twitter that he opened a case of the coveted (512) Brewing Whiskey Barrel Double Pecan Porter bottles he's been storing for several months.
Tonight, the Alamo Drafthouse Lake Creek is featuring a tapping of the experimental and very limited keg of Real Ale Empire (Barrel Aged Lost Gold IPA) which was first released at their fifteenth anniversary party in Blanco in June. Get there early as this fabulous craft beer is sure to sell out.
Flix Brewhouse isn't participating in Austin Beer Week but has a special Halloween event on Sunday at 9:30 pm featuring the movie that cemented my aversion to clowns -- Killer Klowns from Outer Space. Patrons are encouraged to dress in clown attire for a chance to win a special Killer Klown package. For this event, Flix Brewhouse will feature three beers on draft from Massachusetts microbrewery Clown Shoes Brewing, only recently available in Texas.
Flix Brewhouse's production is up and running full-steam with five beers of their own including Golden Ale; Lupulus India Pale Ale (IPA); 10 Day, a Scottish ale; Satellite, a Belgian red IPA; and a fall seasonal named Beer of the Dead. The copper-colored Beer of the Dead includes special ingredients of orange peel, Mexican chocolate and flaked corn. Growlers are also available for taking home any of the draft beers.
Flix's goal is to have a sixth handle of their own out of the 48 handles on their tap wall -- seriously, how awesome to have almost 50 different draft beers to choose from at a movie theater? The sixth tap will be a rolling Pro-Am competition selection, where local homebrewers will be compete for a chance to brew a batch alongside Flix's own head brewer Justin Rizza.
Each of the local homebrew clubs are assigned a month and a style, along with a submission deadline. Want to learn more and participate? Contact any of the participating clubs including Round Rock Homebrewers Guild (December: English or American style Brown Ale), Cedar Park's Texas Carboys (January: British or American style Imperial Stout), and the Austin Zealots (February: French & Belgian style Saison) -- or shoot me an email as I'm a member of both the Zealots and the Carboys.
Speaking of the Austin Zealots, the 2010 Lone Star Circuit Homebrew Club of the Year secured 2011 with a strong showing and club wins at the final competition of the year in Houston last weekend. The club's pseudo-lead official "Primary Fermenter" Corey Martin recently won Boston Beer Company's Longshot Competition, and will have his winning recipe for his Munich Dunkel "A Dark Night in Munich" brewed and packaged as a Samuel Adams limited release in 2012.
Jim Koch's continued support of home brewers committed is an affirmation that he makes in the documentary Beer Wars: to embrace the passion and make better beer available to beer lovers across the United States.
[Photo credits: "Austin Beerworks Peacemaker Meets Real Ale Mysterium Vernum" at the Draught House, "Longshot Celebration at Opal's Marina", all by Debbie Cerda.]