AFF Review: An Ordinary Family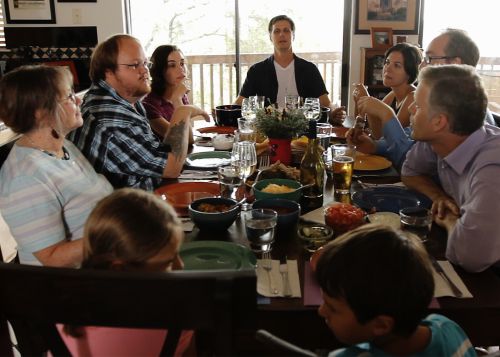 Filmed in Austin, An Ordinary Family highlights the difficulties for a family with a religious background when a member comes out of the closet. After years away from home Seth (Greg Wise) returns for a week with his partner William (Chad Anthony Miller) to meet the family. Each member of the family has a different reaction. For example, brother-in-law Chris (Steven Schaefer) at first finds the situation comical and slightly uncomfortable, but develops a strong bond with William.
The center of the story, however, is Seth's brother Thomas (Troy Schremmer), a Presbyterian minister. Thomas struggles to find peace in order to reconcile acceptance of Seth and William with his faith. It was his intolerance that drove Seth away, and they must come to terms with each other for Seth to consider returning home to rejoin the family permanently.
An Ordinary Family puts on display all the irrational fears on both sides of the process. Through Thomas's point of view it relates the influence of forces outside the family such as coworkers and old friends. Seth meanwhile struggles with disappointment over the fact he was never open with their father and anger with Thomas's role in discouraging that.
Director Mike Akel (Chalk) co-wrote the film with another Texan, Matt Patterson. Together, they have created a warm, believable picture of of an average family. There aren't any clear emotional highs or lows, but the characters are likeable and fun. With luck, this will hopefully (and gently) provide some clarity to other families struggling with the same kinds of problems.
Austin connections: Akel is a former Austinite, and many cast and crew members live in Austin. The film was shot in Austin and Lago Vista -- you might recognize the Kiss & Fly bar, among other locations. Read Jenn's interview with Mike Akel for more details.
You can see An Ordinary Family once more at AFF tonight -- Monday, October 24 at 9:30 pm at Arbor.