Review: The Way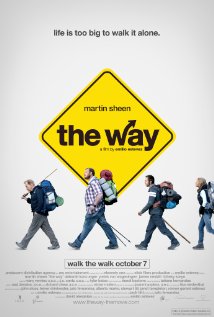 Separation and loss of a loved one, particularly that of a child, is the greatest cause for grief. Until we can learn to accept and deal with that grief, it can be crippling. In Emilio Estevez's latest film, The Way, his father Martin Sheen's character undertakes a task of enormous difficulty to pay homage to the memory of his son and come to grips with his loss.
Tom Avery (Sheen) is a widower, an opthalmologist who spends his free time on the golf course. His relationship with son Daniel (Estevez) is strained as Daniel is having something of a mid-life crisis and drops his graduate studies to travel and see the world. In France, he undertakes a pilgrimage along El Camino d Santiago, a walk of over 800 kilometers to Santiago de Compostela in Spain. But he is killed on the very first night of his journey when a freak storm arises in the Pyrenees.
Summoned to France by the authorities, Tom recalls their last conversation and decides to pick up Daniel's backpack and complete the pilgrimage in his son's place. Along the way, he encounters several people who are themselves coming to grips with personal demons, and they form an unlikely support group.
The Way is a poignant movie, shot along the length of the Camino de Santiago and full of breathtaking views of remote mountain villages, farmlands and cathedrals. The scenery alone is enough to elicit tears, without the grave import of Tom's journey. At key places along the route he stops to spread his son's ashes.
As if planting the seeds of his own redemption, Tom's personality begins to bloom with the help of his companions. The first, Joost (Yorick van Wageningen) is a Dutch bon vivant who hopes the walk will help him lose weight, though he can't help sampling heavily of the local cuisine at each stop. The second, Sarah (Deborah Kara Unger), intends to quit smoking at the end of the journey. The last, Jack (James Nesbitt) is an Irish travel writer stuck in a career rut.
The variety of stories and settings along a pilgrimage invites one to consider The Way a modern Canterbury Tales, and it is a favorable comparison. Each character's story is revealed in bits along the way until the dark secret behind their troubles is clear. As each finds redemption, Tom learns to see the world from Daniel's point of view and so becomes closer to him.
The Way is one of the most mature, poignant, spiritual films I've had the privilege to watch. It has perhaps the worthiest script I have seen this year for an Oscar and I encourage everyone to see it, especially those who have lost someone or have their own demons to exorcise.