Fantastic Fest Review: A Boy and His Samurai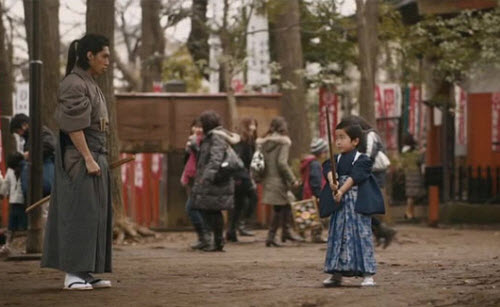 In 2009, one of the biggest buzzed-about movies at Fantastic Fest was the Japanese Fish Story. In 2010, everyone scrambled to get a ticket for Golden Slumber. In 2011, before the movie even played, Fantastic Fest-goers went wild over A Boy and His Samurai (Chonmage purin) ... why? All three of these movies are directed by Yoshihiro Nakamura. Many attendees were worried A Boy and His Samurai would not live up to the hype or to Nakamura's previous efforts, but it turns out the movie is one of the sweet delights of the fest.
A Boy and His Samurai is set in contemporary Tokyo, where single mom Hiroko (Rie Tomosaka) is trying to raise her son Tomoya (Fuku Suzuki) and keep her demanding yet fulfilling office job. The pair encounter a young man dressed in 19th century samurai garb, and at first dismiss him as a grocery promotion. But it turns out that Yasubei (Ryo Nishikido) is in fact from the early 19th century -- he had been praying to a Buddha statue and next thing he knew, found himself in the middle of a bustling 21st century city, 180 years in the future.
Despite the time-travel aspect, A Boy and His Samurai is primarily a relationship film. Hiroko and Tomoya help Yasubei learn how to deal with contemporary manners and roles, which includes the way he interacts with people (especially women ... especially women who like working in an office). The story is surrounded by mild humor as Yasubei figures out what an answering machine is for, plays Pokemon with Tomoya, and watches TV to learn how to perform modern tasks.
While I'm normally the last person to succumb to juvenile cuteness in film, part of A Boy and His Samurai's charm is the performance from adorable child actor Fuku Suzuki. Press screenings are normally quiet but I heard critics exclaiming "Awwwww!" multiple times in the scene where six-year-old Tomoya has a fever, and I understood why. The adult characters are less winsome but their roles are just as skillfully written and portrayed.
What I do succumb to in Japanese films is interesting cooking -- I had to stifle my own squeal of delight in one of the opening scenes, in which Hiroko quickly assembles her son's school lunch. Speed bento, I love it! While that was the only bento-making moment in the movie, the second half of the film may be particularly delightful to people who like watching beautiful and unusual food in their movies ... while still propelling the storyline.
A Boy and His Samurai would make an excellent family film, at least for kids old enough to read subtitles. It is universally charming without being overly cloying or sentimental, and it's easy to see why this movie won the Audience Award at Fantastic Fest this year. I hope we'll see it return to Austin soon for more screenings. (In the meantime, grownups may want to catch Nakamura's Fish Story on Netflix Watch Instantly.)