Fantastic Fest 2011, Day Eight: Not With a Bang But a Blowout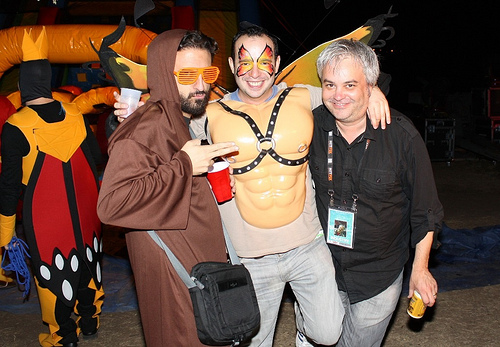 The last day of Fantastic Fest is often the most relaxed. Many have left to return home, and the Alamo patio feels like a ghost town compared to the first few days. Instead of five screens, films were playing on only three. Still, many of the best shows remained to be seen, including several fan-favorites with added screening times such as A Boy and His Samurai.
The day began with a South Korean thriller reminiscent of Audrey Hepburn's Wait Until Dark. Blind is the story of Min Soo-Ah, a no-nonsense police academy trainee. Min's brother has a habit of getting into trouble of a criminal nature, and fed up with his latest exploit, she arrests him and handcuffs him to the car. The ensuing sibling catfight ends in a disastrous wreck, leaving Min blind and her brother dead. Min is expelled from the academy, not for her handicap, but for her irresponsible actions. Three years pass, and after Min is nearly abducted by a serial killer, she is the only witness who can help track him down. Unfortunately, nobody considers her a credible witness, not even the detective working her case. This was an exciting movie which, unfortunately, too many people compared to Daredevil. It works best in scenes where the emotional impact is high such as the wreck that blinds her, and the ongoing process of working through her guilt over that.
Two-time Fantastic Fest director Aleksey Balabanov (Cargo 200, Morphia) returned with another glimpse into an obscure corner of Russian history, Kochegar (The Stoker). This film tells a simple story about a broken war hero who lives only to support his daughter, shoveling coal into an industrial boiler day and night. The very simple story is stretched to 87 minutes, and we are introduced to the topic of racism in Soviet Russia by tales he tells of his native Yakut people as he entertains two local girls who visit him. Ultimately a tragic story, but a fascinating picture of life, death and revenge served cold.
The final film of Fantastic Fest 2011 was much more upbeat. Morgan Spurlock's Comic-Con Episode Four: A Fan's Hope is his best documentary to date. Local film writer Harry Knowles was a producer along with Spurlock, Thomas Tull and Stan Lee. Tull and Knowles presented the movie along with several of its subjects to a sold-out Fantastic Fest crowd.
Spurlock follows several attendees of 2010 SDCC as they discuss their experiences at Comic Con and explain what it means to them. While Trekkies presented its subjects as oddball, even freaky, Comic-Con Episode Four foregoes that sensationalism and treats each fan with dignity and respect. One toy collector attends each year on a mission to get the latest collectible and maintain a complete set. A comic dealer who has attended every year from the beginning is now trying to make enough sales to stay in business another year, as the focus of the convention shifts from comics to big Hollywood movie presentations. Two promising artists try to get a break and find jobs in the industry. A brilliant costume maker competes in the Masquerade with her friends dressed as characters from the Mass Effect video game. And finally, there is the young man who met his girl at Comic Con the previous year, and now plans to propose. Each character is experiencing a completely different aspect of the convention, but all are interesting and engaging.
Spurlock remains entirely behind the camera for this one, a departure from his well-known style, and the result is a loving picture of the fans and their motivations. I spoke with Harry about Comic-Con Episode Four, and that interview will be published here next week.
This is the way Fantastic Fest ends, not with a bang, but a complete blowout. The superhero-carnival-themed closing-night party included bouncy houses, a velcro fly, Aquaman's wading pool, karaoke with pole dancers and carnival theme food like funnel cakes and mini corndogs with a queso fountain. Check Slackerwood's Flickr set from Fantastic Fest for more party photos.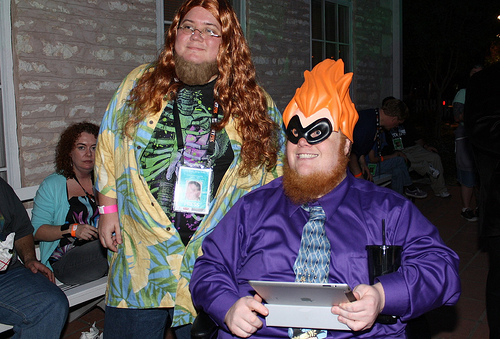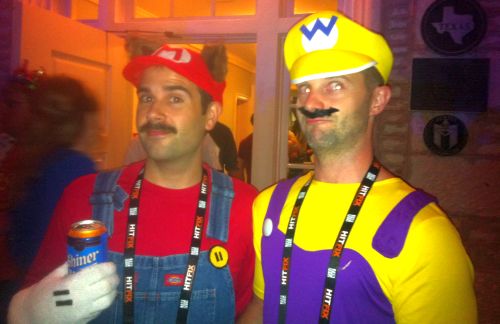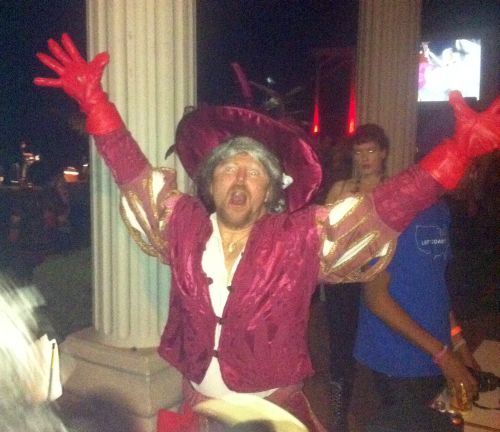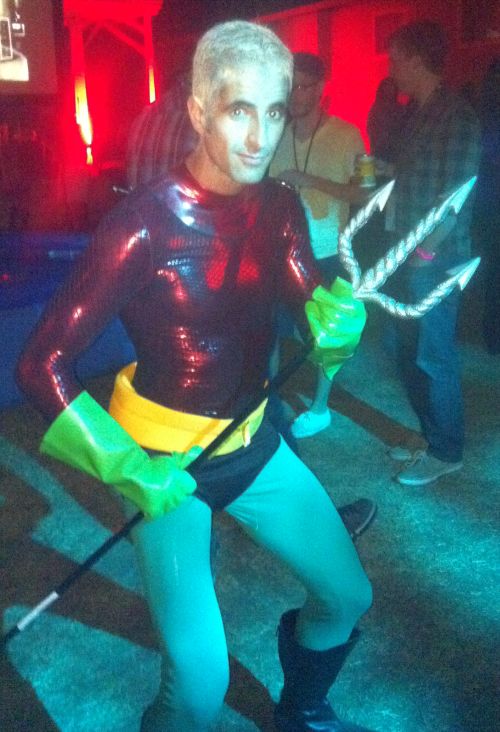 [First two photos by Debbie Cerda, all rights reserved. Remainder of photos by Mike Saulters.]