Quick Snaps: What's That 'You're Next' Artwork at Alamo?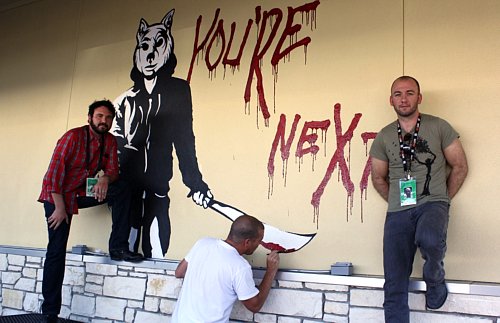 On a sunny Friday afternoon during Fantastic Fest, festgoers seated on the benches outside Alamo Drafthouse on South Lamar noticed something unusual: a mural being painted on the Drafthouse wall nearby. An artist painstakingly worked on a mysterious figure, then text in bloody lettering, then a few gory touches. I took several photos during the process (posted after the jump), but Debbie's the one who snapped the almost-finished artwork you see above.
The gentlemen in the photo who are not wielding a brush are actor AJ Bowen and writer Simon Barrett, who both worked on the Adam Wingard thriller You're Next ... which is thefilm being promoted in the mural. You're Next was recently acquired for U.S. distribution by Lionsgate, and as a result, only screened one time during Fantastic Fest. I'm told it was an extremely popular screening even at midnight and up against the Fantastic Debates (where I was at the time).
Bowen also starred in the Austin-shot short No Way Out, which also screened during the fest; you can read Rod's interview with the filmmakers for details.
Here are a few more photos of the mural in progress during the day. It is still on the wall at Alamo South Lamar if you want to see it in person, although I have no idea how long it will remain there. You're Next is tentatively slated for a fall 2012 release; maybe not that long.
[Photo credit: Debbie Cerda, Jette Kernion. All rights reserved.]