aGLIFF 2011, Dispatch #6: Homelessness, Craigslist and the Comedy Stylings of Tom Lenk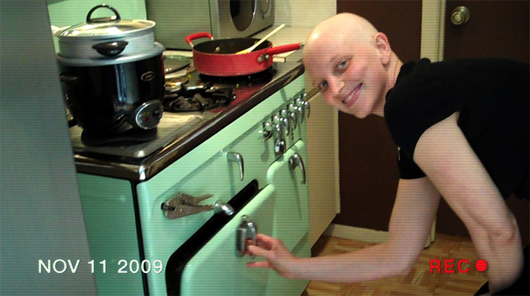 The final day of aGLIFF was much like the days before it: moderate crowds, the usual broad mix of films and the continued comforting presence of Rick Perry and Michele Bachmann welcoming us to the festival before each screening.
I started the day with the My Queer Movie Competition shorts, a just slightly eclectic collection of 13 films in every conceivable style. Kudos to the aGLIFF programmers for presenting a shorts program with something for every taste, from David Goldstein and Jeff Keith's beautifully romantic Now & Forever to Eliane Lima's dark and striking (if somewhat impenetrable) Leonora to one of my favorites, Austinite Zach Green's hilarious The Green Family Elbow, about a family enduring anti-gay bullying although no one in the family is gay.
Another favorite short is Christopher Peak's Looking, a poignant documentary about men who use Craigslist to meet other men for secret sexual encounters. The five men interviewed in Looking are amazingly candid about their activities, telling us that such liaisons are very common, and many of the participants are married or have girlfriends. I also enjoyed Kate Lefoe's Under Pressure, an Australian import about two high-school girls who reveal their secret sexual desires while hiding from a shooter at their school.
My next screening was Lost in the Crowd, a grim and riveting documentary about homeless LGBT youth in New York City. Directed by Susi Graf and filmed over eight years, Lost in the Crowd proved to be my favorite film of the festival. It's an unflinching look at the lives of young people who, knowing that society considers them disposable, resort to sex work and drug dealing to survive the Big Apple's hostile streets. Homelessness is brutal enough for anyone -- but these lesbian, gay and transgendered youth have an especially hard time, as homophobic bigotry only compounds their misery.
While Graf's unblinking lens captures no end of tragedy, it also captures enough small but remarkable triumphs to give Lost in the Crowd an unexpectedly optimistic tone at times. The film's subjects possess remarkable survival skills, and a few defy the daunting odds against them by escaping the streets and moving on to more stable lives. There is hope, Lost in the Crowd says with great, gritty poignancy, even for the least among us.
Screening with Lost in the Crowd was my favorite short of the festival, Change. A drama about a gay African American teen on the day of Barack Obama's election (the same day when California's anti-gay marriage Proposition 8 passed), Change packs a powerful message about bigotry and hypocrisy.
After Lost in the Crowd, I headed for the Highball to attend Tom Lenk's musical comedy show, "Nerdgasm." Lenk (of Buffy the Vampire Slayer and Broadway's Rock of Ages fame) is a manic and entirely self effacing comic, not afraid to bare his nerdy soul (and display the worst of his high school photos and mementos) before a very receptive audience. His routines about boarding an airplane with Elijah Wood and encountering Daniel Craig at a gym were especially funny.
I wrapped up aGLIFF on a far more serious note at the screening of Cancerpants, a terrific documentary about Austinite Rochelle Poulson's fight against breast cancer. Shot in Austin and astutely directed by Nevie Owens, Cancerpants is a starkly honest portrait of Poulson's battle, a film that doesn't shy away from the often unpleasant details of her story. ("Unpleasant" is an understatement; the more graphic parts of Cancerpants are not for the squeamish.)
Poulson (pictured at top) is a perfect documentary subject, entirely forthcoming about her ordeal and possessed of a deliciously dry sense of humor that lightens the film's mood when needed. She's also possessed of a devoted wife, Julie, and the best set of friends anyone could want, all of whom make Cancerpants a very inspirational time at the movies. Hopefully, the film will find the wide distribution it deserves.
Screening with Cancerpants was the Austin-made short 33 Teeth. Directed by Evan Roberts, this 2011 Iris Award nominee is a very amusing look at how a first crush prompts a young teen to behave in rather odd ways. Haven't we all been there?