'Slacker 2011' Premieres at the Paramount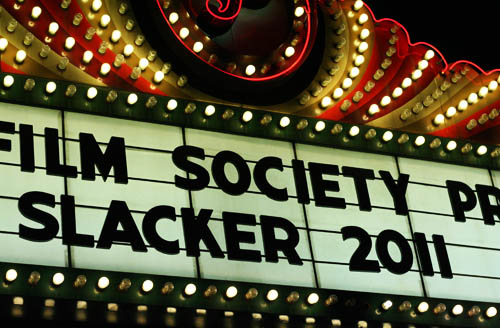 The movie Slacker 2011 premiered last week to a sold-out crowd at the historic Paramount Theatre. The festivities included a red carpet set out front for the many filmmakers and actors involved in the remake. The screening was set to start at 7 pm, but the introduction by two of the movie's producers, Alamo Drafthouse programmer Daniel Metz and Brian Poyser from Austin Film Society, actually began closer to 7:30.
The duo thanked all the people who helped make the film. Austin's mayor Lee Leffingwell made a proclamation, then Richard Linklater came onstage to express his excitement to see the remake of his film Slacker, as well as introduce cast members from the original 1991 film who were in attendance.
You can read Don's review of the film here; the audience at the Paramount loved the movie. There were a couple of spots where the film projection paused and stuttered. Still, this couldn't ruin the feeling of bonhomie in the room. There was a general burst of excitement as the last scene popped up on the screen.
I left after the post-credits tag scene -- my friend, an extra in Elisabeth Sikes' scene, wasn't feeling well -- but the filmmakers were called up onstage afterwards.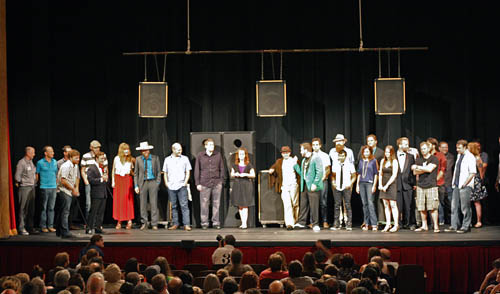 After the Q&A, many of the filmmakers and audience members headed over to The Highball for a rousing after-party. Austin360 has photos from the event.
If you missed the Slacker 2011 premiere, you still have opportunities to see the movie. Alamo Village will screen the movie on two Sundays this month, September 11 and 25.
Look for red-carpet photos from Jette this week, and don't forget our interviews with many of the Slacker 2011 filmmakers.
[Photo credit: Jette Kernion. All rights reserved.]