Slacker 2011: Duane Graves Swelters at the G/M Steakhouse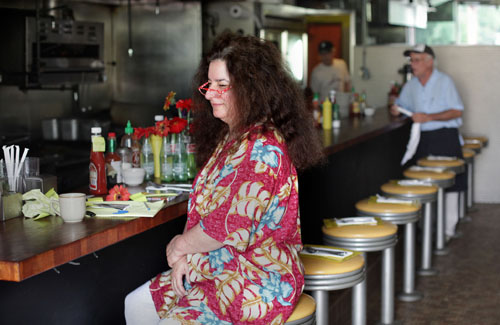 In celebration of Slacker's 20th anniversary, local filmmakers are re-creating scenes from the Richard Linklater movie for Slacker 2011, a fundraising project benefitting the Texas Filmmakers Production Fund (TFPF). As we await the August 31 premiere, we're chatting with some of the filmmakers participating in one or more of the short films that will comprise the project -- check out our interviews so far.
Today's interview is with San Antonio native Duane Graves. Graves and Justin Meeks have been making films together in Central Texas for about 10 years, starting with the horror short Headcheese in 2002. Their 2008 movie The Wild Man of the Navidad, shot south of San Antonio, played Fantastic Fest 2008 and is now available on DVD. Read on for more not only about their Slacker 2011 sequence but their latest project, the horror feature Boneboys.
Slackerwood: Which scene from the film did you shoot?
Duane Graves: Justin [Meeks] and I did the scene outside/inside the G/M Steakhouse (Counter Cafe) where Happy-Go-Lucky-Guy (played in the remake by Justin himself) has a string of encounters with several nutty patrons.
What made you interested in re-creating this particular scene?
"You should quit. Quit traumatizing women with sexual intercourse. I should know, I'm a medical doctor. I own a mansion and a yacht." Pretty much for that dialogue right there. It's some of the most memorable lines in the original film, and definitely one of the movie's funniest scenes. It was also the most highly sought-after scene amongst the participating directors during the first pre-production meeting.
What helped our case was that Lori Witzel, who played the Traumatized Yacht Owner in the original, happened to be a friend of mine. I was working at Apple Computer back in 2001 and met her husband Murry, and he mentioned that his wife had been in a "little Austin movie back in the early 90's." I almost choked on my T-Cloud when he told me which part she had. Of course I had to meet her! I wasn't sure if she would be interested in reprising her role, so I was delighted when she agreed to do it. She still gets recognized around town from time to time.
What do you think your challenges have been in re-visiting this scene?
Doing this scene was pretty much the exact opposite of what usually happens on any given project: Things actually worked out perfectly from A to Z. Lori agreeing to do it was the first home run. Then we found the G/M Steakhouse was still very much alive, reincarnated as the Counter Cafe, and the owners were extremely proud of its cinematic history and very friendly. They let us take over the cafe after hours for a couple days. We asked veteran character actor Sonny Carl Davis [pictured below] to be the Cranky Cook and he came aboard. (Ironically Sonny was the Cranky Customer in Fast Times at Ridgemont High that gets Judge Reinhold canned at the fast food burger joint.)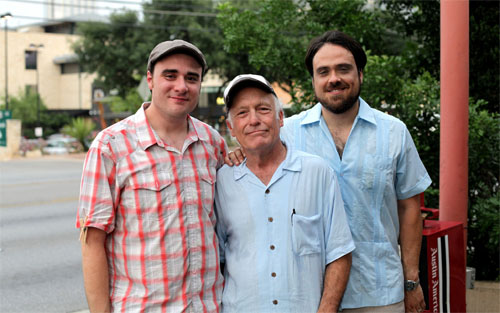 If there was one specific challenge I'd have to say it was the heat. We went in right after they closed the restaurant, so the grills were still smoking pretty much. With the air cut off for sound, and all the lights blazing, etc., it was sweltering. We couldn't keep the actors dry. I think it may have accented the offbeat nature of the scene, but really, we were damn hot in there.
Could you share any connections or memories related to the original Slacker you might have?

I was a little late on the Slacker bandwagon actually. I didn't catch the original movie until I bought a VHS copy back in 1995. One of my biggest hobbies at the time (and to this day, really) is photographing locations of famous films as they appear today and making then-and-now comparisons (check out my archives at www.silverscreensites.com). I guess it's one of those movie geek things that helps me feel more connected to my favorite flicks, not unlike buying memorabilia, toys and whatnot.
I remember traveling to Austin to do my Slacker tour back in the 90's, before Austin had completely transformed. Most of the spots looked exactly the same still. In a way doing this scene in the remake was an extension of that -- except I was doing a live-action recreation of the movie instead of a photo comparison. It was really a great honor to be part of it, and I loved every second of it.

Can you tell us about any projects you're working on now/next?

Justin and I co-directed a horror film in Austin last year called Boneboys, which was written by Kim Henkel, writer of the original Texas Chain Saw Massacre back in 1973. It's an urban nightmare inspired by Jonathan Swift's "A Modest Proposal," and it was a huge challenge to shoot -- mainly because of how super-ambitious the script was compared to the budget level we were operating in. Luckily we put together an amazingly talented cast and crew that pushed through everything and were instrumental in realizing it. We're still in post currently, but picture lock is finally on the horizon. The movie is a frightening ride for sure, crazy as all get-out, and we can't wait to unleash it early next year.
[Photos courtesy of Duane Graves]