Quick Snaps: Steve Buscemi at University of Texas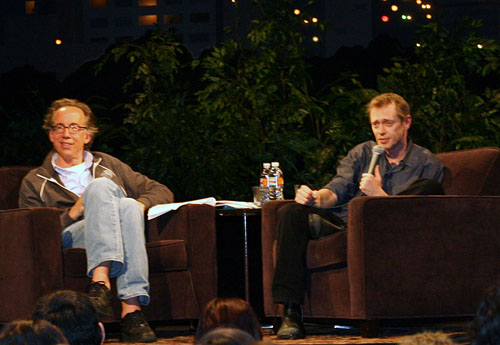 How do you get students to show up and act enthused about class on the Monday after South by Southwest and Spring Break? If you're John Pierson, you bring in actor Steve Buscemi, who was so popular that the class moved to the Austin City Limits studio. Buscemi spoke for nearly two hours to Pierson's RTF master class at UT last night. He and Pierson held a conversation about the films he'd acted in and directed, and then he patiently answered many student questions.
I enjoyed hearing Buscemi talk about Interview, which he directed and acted in -- it's a remake of the Theo van Gogh film. He also spent time talking about one of his first films, Parting Glances, and how he went from being a firefighter to being able to pay the bills as an actor. Pierson pointed out a funny Texas connection: Early in his career, Buscemi appeared on an episode of Miami Vice, where his character was beaten up by, of all people, Willie Nelson.
Before Buscemi showed up, we watched a reel of clips from various films in his long strange career. It was odd to see Reservoir Dogs and The Big Lebowski in front of the well-known the Austin City Limits backdrop.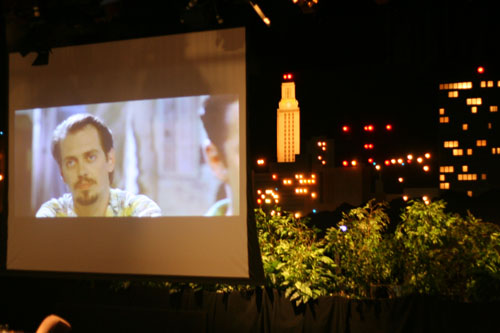 Although he's still working hard in films, Buscemi feels that filmmaking is much more difficult these days, because so many people are making movies that the odds of your film getting distribution are pretty slim. But he says that doesn't stop him from doing what he wants to do. And he does like working in digital video, finding DV cameras very unintimidating to use.
The actor-filmmaker also shared his secret for riding the subway without being recognized much, and said that when he is spotted in public, it's interesting because he's been in such a variety of films, everyone seems to recall something different. He gets told to "shut the f*ck up" (The Big Lebowski), but lots of people also remember him from the Adam Sandler films in which he's appeared, and Pierson said they were nearly attacked by one large bouncer at SXSW who wanted to meet that guy from "The Sopranos."
Here's another shot of Pierson and Buscemi, but at a wider angle -- again, seeing ACL behind them was unusual (but also kind of cool). Pierson joked that he asked for a rug to be placed under the chairs on the stage, to "tie the room together." Funny, dude.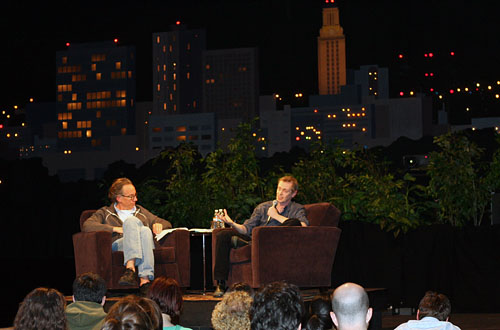 KUT plans to broadcast highlights from the class; I'll let you know when I hear about a specific broadcast date/time.