Review: Fright Night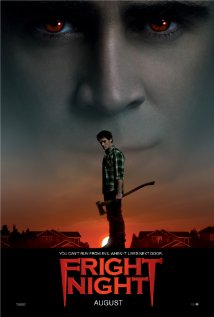 This summer's movies have included a number of remakes, revisits and reimaginings. The latest of these, opening this weekend, are Conan the Barbarian (look for my review this weekend) and Fright Night, Craig Gillespie's take on the 1985 suburban vampire hit. Newcomers will love this horror-comedy set on the outskirts of Las Vegas, and fans of the original should have no complaints.
This remake was in good hands as Gillespie has a short but sweet resume with the Ryan Gosling hit Lars and the Real Girl, Mr. Woodcock, and a number of episodes of United States of Tara. Handling the screenplay was Marti Noxon, who is no stranger to vampires after writing for Angel and Buffy the Vampire Slayer in addition to a number of other TV series, and she did a fantastic job. Her script echoes the 1985 source but takes surprising and unexpected turns.
Not the least of these is the reimagining of Peter Vincent as portrayed by David Tennant. While Tennant has similar voice and facial features to Roddy McDowall, as well as the energy and British accent, this Peter Vincent is a rock star at the peak of his career as opposed to McDowall's older foundering TV host. Tennant is reported to have visited Las Vegas to watch Criss Angel, and his performance here is at times an unflattering caricature of the performer, but perfect for the story as written. Tennant fans will find this a treat and a glimpse of what we can expect from him post-Doctor Who.
Anton Yelchin as the teenage hero of the movie, Charley Brewster, is the focus of the story. Having just "grown up" and traded in his nerdy best friend Ed (Christopher Mintz-Plasse), Charley tries being part of the jock crowd to impress his girlfriend Amy (Imogen Poots). After a few people have gone missing, Ed approaches with wild stories about Charley's new neighbor, and then the action begins. While 1985's Fright Night involved a slower build up, Gillespie's hits hard and doesn't stop, making for a more exciting while only slightly less suspenseful update.
Colin Farrell, currently appearing in Horrible Bosses (my review here), is the smooth-talking steamy neighbor Jerry, a much more aggressive take on the role originated by Chris Sarandon. Farrell, who has cleaned up his act and traded a life of debaucherous drug-filled partying for working out and raising his kids, turns on all of his considerable charm to play a vampire that's as seductive as he is carnivorous. Jerry is no mopey-glittery Twilight vampire, but an unbeatable killing machine, and I can't after watching this picture imagine anyone else better for the role.
Original though a remake, smart, exciting, and funny, Fright Night is one of the most solid releases this summer. I have to mention Christopher Mintz-Plasse, who really gets to shine here. While still cast in roles as the nerd or dork, Mintz-Plasse is evolving within them, developing confidence and comic timing that will make him stand out from the pack. He will be one of the young stars to watch.