Slacker 2011: Stuck On On Puts It All Together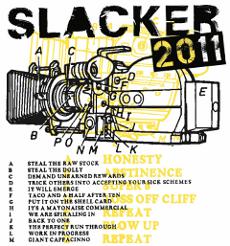 In celebration of Slacker's 20th anniversary, local filmmakers are re-creating scenes from the Richard Linklater movie for Slacker 2011, a fundraising project benefitting the Texas Filmmakers Production Fund (TFPF). As we await the August 31 premiere, we're chatting with some of the filmmakers participating in one or more of the short films that will comprise the project -- check out our interviews so far.
Today's interview is with Allison Turrell of Stuck On On. Stuck On On is an Austin company that specializes in post-production/finishing work for films, such as color correction, music composition, voiceovers, sound design, and digital mixing. Stuck On On worked with Austin Film Society and Alamo Drafthouse to help make a finished feature out of the Slacker 2011 segments from individual filmmakers. They've also worked on local movies such as Winnebago Man, Richard Garriott: Man on a Mission, blacktino and DMT: The Spirit Molecule.
Slackerwood: What got Stuck On On interested in this project?
Allison Turrell: We got involved because we loved the original Slacker and we love and support the Austin Film Society and the Austin filmmaking community. We've worked with several of these directors, producers, DPs and editors before and this was an opportunity to work with some new faces as well. We've also worked on previous films that received TFPF funds including The Happy Poet, Where Soldiers Come From, The Eyes of Me and The American Widow Project. We wanted to give back to the community.

What kind of work did Stuck On On do for Slacker 2011?
We assembled the 24 vignettes. We also conformed all 24 projects because everyone shot with a wide variety of cameras. We are dialogue editing, re-record mixing, sound designing, color correcting and making the final Blu-ray that will screen at the Paramount. All of these services vary depending on the scene. Some folks had their scene mixed and/or color corrected.
What do you think your challenges have been in working with this project?
We knew this would be one big experiment since we're dealing with 24 different teams with a wide variety of styles and technical expertise. We've worked on several documentaries, so we're used to mixed formats and run'n'gun style production values. Because of the nature of the project, continuity is really subjective. Instead of one director with a singular vision, there's 24 with 24 different styles and interpretations. Our job is essentially to fix or neutralize any production lighting, sound or editorial challenges that distract from the movie watching experience. We're not magicians, but we are trying to make it the best it can be.

Has anything surprising or memorable turned up for you during post-production on this project?
After the first assembly cut screening for the filmmakers, most folks agreed the cut need to be trimmed because it had the potential of being too long. Since everyone worked in isolation on their scene, most folks were really happy with their end result and didn't want to touch a thing. But seeing them all together back to back, in a 90+ minute film, was a totally different experience.
It was a unique challenge for Alamo [Drafthouse], AFS and Stuck On On to navigate. How does one balance the integrity of individual scenes versus the watchability for a larger audience. Slacker 2011 is like synecdoche, but not Charlie Kaufman's Synecdoche. Maybe more like Being Richard Linklater. Everyone searching for a portal into Richard Linklater's brain.

Can you share any connections or memories to the original movie Slacker that you might have?
Lyman Hardy, our lead audio engineer, lived in Manhattan, Kansas (the Little Apple) for a couple of years where he went to school and booked and hosted bands, including Ed Hall, the band playing at the Continental Club. Scott Van Horn was their road manager/mechanic/buddy on the road with them, who is the Nova mechanic who catches a ride to the junkyard in Slacker.
When Lyman moved to Austin, Slacker was in theaters, and those were the first people he knew in town. Lyman got a job at Wheatsville working with Greg Ward, who throws the camera off the cliff, and Kevin Whitley, who didn't want to throw the typewriter off the bridge. The "you should quit" woman and Charles Gunning (guy waiting for his true calling) would shop there, as well as Luke Savisky and other Slacker luminaries. Later, Lyman joined Ed Hall.
Slacker is a movie that carries over into life -- walking out of the theater, you run into some people, wind up in some esoteric conversation and think, "This is like we're in Slacker!" Lyman felt like he moved into Slacker.

Can you tell us about any projects you're working on now/next that are exciting for you?
Our composer and sound engineer Lyman Hardy is scoring Cinema Six [aka A Splice of Life], which is Mark Potts and Cole Selix's latest feature, being produced by Kelly Williams. We just finished up Jeff Nichols' Take Shelter, which hits theaters in late September. Take Shelter was edited at Stuck On On by our own Parke Gregg and we also did a good bit of sound design and the full DI/Color Correction. Also, Heather Courtney's Where Soldiers Come From, which is hitting the festival circuit right now and getting a great response.