Slacker 2011: Berndt Mader Decides It's Not Such a Bad Idea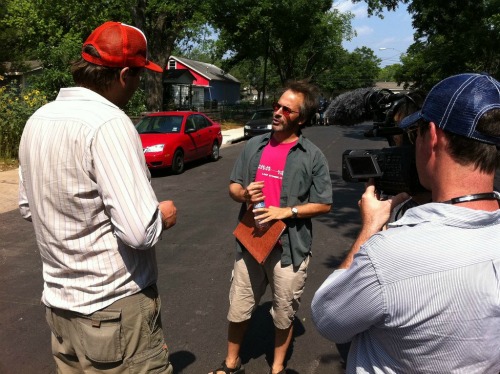 In celebration of Slacker's 20th anniversary, local filmmakers are re-creating scenes from the Richard Linklater movie for Slacker 2011, a fundraising project benefitting the Texas Filmmakers Production Fund. The trailer is now available. As we await the August 31 premiere, we're chatting with some of the filmmakers participating in one or more of the short films that will comprise the project.
Today's interview is with Berndt Mader, cinematographer (Winnebago Man), and writer and director of Five Time Champion, which won the Texas Filmmaker Award at the Dallas International Film Festival. Read Don's review from the movies premiere at SXSW this year.
Slackerwood: Which scene from the film did you reshoot?
Berndt Mader: I had the Jerry Deloney and Tommy Pallotta scene where Jerry accosts Tommy on his way out of a coffee shop. He follows him down the street going off about global conspiracies involving the CIA, the moon landing, and illicit Guatemalan drugs. Pretty hilarious scene.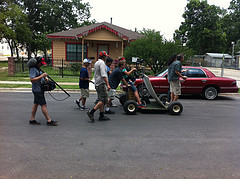 Why did you look forward (or did you?) to re-creating this particular scene?

To be honest, I thought the whole remake idea was a terrible one. What I love about the original is that it's such a singular vision. It captures a scene in this town at a particular time, in all its madness, from the very distinct perspective of those filmmakers at that time.
I thought that bringing in so many voices might muddy the whole thing up and create a disjointed film. But when I learned that Linklater had approved of it and that it was primarily a fundraiser for the Austin Film Society, I decided to do it.
What do you think your challenges have been in re-visiting this scene?

The challenging thing to me, especially with this scene -- with such an iconic performance from Jerry -- was how do I not fuck this thing up? How do we do something that doesn't compete with the original, because that's impossible. Jerry is too amazing.
So, I worked with Chris Doubek, who is a rockstar and the keystone of the Austin acting community, and we came up with something that I think touches on the original, but gives it a totally different vibe and that I think has its own personality.
Do you have any connections or memories related to the original Slacker?

I remember feeling like a dumbshit in college because that's when I first saw it. I was in school in Rhode Island and I couldn't believe that I was from Dallas and had never seen this film.
I felt sheltered and embarrassed because all my classmates would come up to me and ask, "Is that what it's like in Austin?" And I had no idea.
[Photos courtesy of Berndt Mader]