Slacker 2011: Carlyn Hudson and Reel Women Students Squeeze Into a Packed Car
In celebration of Slacker's 20th anniversary, local filmmakers are re-creating scenes from the Richard Linklater movie for Slacker 2011, a fundraising project benefitting the Texas Filmmakers Production Fund. The trailer is now available. As we await the August 31 premiere, we're chatting with some of the filmmakers participating in one or more of the short films that will comprise the project.
Today's interview is with Carlyn Hudson, a young filmmaker who directed the Slacker 2011 sequence produced by the Reel Women UT Chapter.
Slackerwood: Which scene from the film did you re-shoot?
Carlyn Hudson: We re-shot the scene with Steve ("S-T-E-V-E") and three girls in a van who proceed to Blue Bayou (now Trophy's) and get rejected.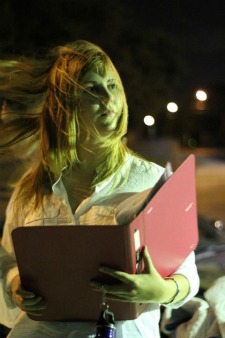 Why were you looking forward to re-creating this particular scene?
This scene isn't necessarily one of the iconic ones in Slacker, so that in itself created a unique opportunity. Furthermore, it never made sense to me that one of the girls left her friends to be with Steve, clearly a D-bag.
We also shot with an all-female crew which was incredible and a first for most of us on set.
What do you think your challenges have been in re-visiting this scene?
Technically our scene presented a few challenges. We had a night scene in a moving vehicle during which for most takes, four characters, an audio recordist, the cinematographer, and myself were filming in the car also stuffed with music gear. Please don't inform the Austin police of this fact.
Do you have any connections or memories related to the original Slacker?
To be completely honest, I do not. I'm in my early 20s, so I came to Slacker around the time it began streaming on Hulu.
I do have a vivid memory of coming to Austin as a nine-year-old, however, when we were sending my older sister off to UT. After being accosted by drag-rats, exposed to more sexual orientations than I knew existed, and witnessing the strangest wardrobe choices of my life, I threw my arms around my sister, crying, and said, "How can we let her live here, with all of these ... weirdos!"
I may have been late seeing the film itself, but the legacy Slacker created (and documented) was certainly a part of what drew me to Austin to make films. I am thrilled to re-create a scene honoring my own generation's particular brand of slacking.
[Photos courtesy of Carlyn Hudson]