Slacker 2011: Jonny Stranger Shoots Despite the Pain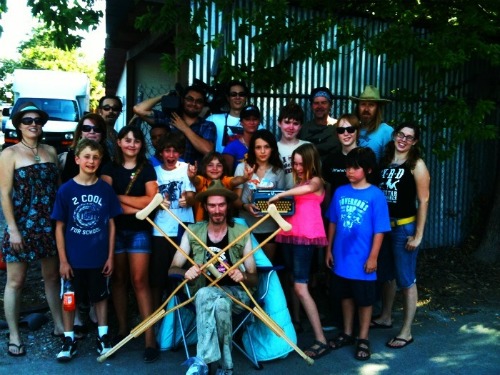 In celebration of Slacker's 20th anniversary, local filmmakers are re-creating scenes from the Richard Linklater movie for Slacker 2011, a fundraising project benefitting the Texas Filmmakers Production Fund. The trailer is now available. As we await the August 31 premiere, we're chatting with some of the filmmakers participating in one or more of the short films that will comprise the project.
Today's interview is with Jonny Stranger, filmmaker and professor of cinema at Austin Film Society. Stranger has worked with the AFS education department for about five years. During the school year, he works with at-risk kids in afterschool programs all over Austin, and during the summer, the program offers weeklong filmmaking camps.
Slackerwood: Which scene from the film are you reshooting?
Jonny Stranger: I am remaking the scene with the group of kids who peep on a couple I refer to as "the lovers." After encountering the frisky slackers, the kids quickly run away and steal sodas from a nearby vending machine. They then sell a Diet Coke to three guys ready to rid themselves of broken hearts in a weird ceremony involving throwing things off a bridge.
Why were you looking forward to re-creating this particular scene?
When I first heard that Slacker was going to be remade, I choked on my taco. I thought Linklater must be rolling over in his grave. Then I found out he was still alive and that made me happy because I believe in his cinema.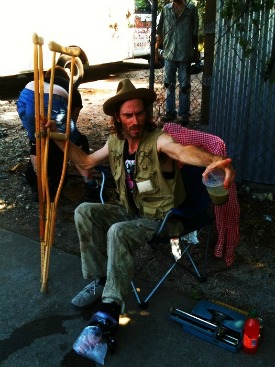 I feel blessed to be given the opportunity to work on this project. I am connected to the original Slacker and love how Linklater made it personal by incorporating so many aspects of his world into the film. In making my scene I decided to personalize the segment while remaining true to the heart of the film by using some original cast members and having my crew appear in the scene.
I felt super lucky to have Slacker original Clark Walker on the cast and crew of this project. He's a mensch.
What do you think your challenges have been in re-visiting this scene?
I was the last one to receive this directing assignment (I found out as I was headed to Phoenix for a roller derby tournament). June 19th was the only day I had off, so we had no other choice but to shoot it that day.
This was my first Father's Day without a father, but I could feel his presence watching over me as I shot the scene. I sprained my left ankle while managing the TXRD banked track all-star roller derby team in Phoenix. I should have rested it that day, but had to get the scene made and it was the only time we could shoot.
Do you have any connections or memories related to the original Slacker?
Slacker is the second part of Linklater's thematic dream trilogy. It's Impossible to Learn to Plow by Reading Books being the first; and Waking Life the third. I feel intimately connected to this trilogy, but I saw Slacker first, so it holds a special place in my heart.
When I first saw Slacker, the structure reminded me of a play called The Dining Room by A. R. Gurney. Gurney seemed interested in WASPs. The person who made Slacker was interested in people like me. I glean something new every time I see it.