'St. Nick' Returns to Austin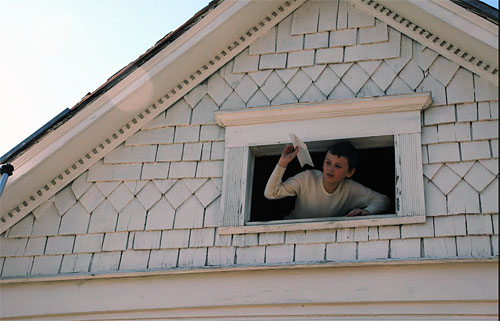 One of my favorite movies from 2009 was St. Nick, a film from Dallas filmmaker David Lowery that I saw at SXSW that year. It is lovely and slow and rewarding and has very little dialogue, a description that I realize will cause some people to run away, but may intrigue others. A brother and sister run away from home and find a new place to live in an abandoned house -- and that's about it for story. The characters and their setting are the focus of the film.
St. Nick has had made a long and successful film-fest tour, but has not played in Austin since its festival screenings more than two years ago. Now, however, the Texas Independent Film Network is taking Lowery's feature on tour around the state. You can see it here in Austin on Saturday night, May 21, at 7:30 pm in the Austin Film Society screening room. (Lowery tells me that the first screening of St. Nick, in a rough cut, was at the AFS screening room, so this is quite fitting.) Tickets are available online through AFS.
Yes, I realize that's UT graduation night, but AFS isn't too close to downtown and this may be your only opportunity to watch this beautiful film, shot by Austin filmmaker Clay Liford, in a theater. Besides, Lowery will be at the screening and I hear he may be giving away a couple of handmade DVDs. A company has bought the DVD distribution rights for St. Nick, but has not yet released it on DVD, nor set a date. I can't recommend the movie enough, especially if you have seen and liked any of Lowery's shorts, such as Pioneer or the SXSW 2010 bumpers.
The trailer is embedded below. Hope to see you on Saturday night.