TAMI Flashback: The Carolyn Jackson Collection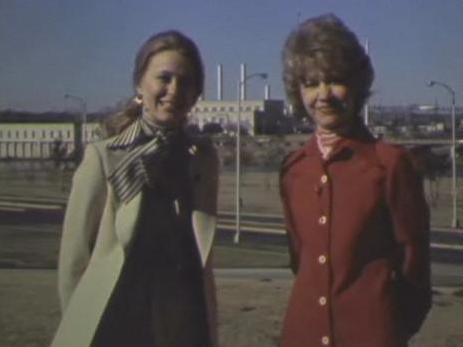 This article is the seventh in a Slackerwood series about the Texas Archive of the Moving Image (TAMI) video library.
Anyone who lived in Austin in the late 1960s and 1970s likely remembers Carolyn Jackson. As the host of a popular local daytime television show for more than a decade, Jackson (shown above with Jane Pauley) was a familiar Austin face who played an important role in shaping local television during the era.
Jackson's career began in 1968, when she replaced Jean Boone as the host of Women's World (later renamed The Carolyn Jackson Show), a half-hour program that aired weekdays at noon on KTBC-TV. The show featured news, public service announcements, interviews and other standard daytime TV fare, such as segments on diet and exercise. The interviewees were an eclectic mix of writers, local politicians, musicians and other notable Central Texans, along with an impressive roster of A-list national celebrities.
Jackson was a true pioneer for women in the male-dominated world of television at the time. With no staff and a miniscule budget, she ran the show largely as one-person operation, serving as the show's producer, doing all her own research, writing and editing her news reports and landing interviews with everyone from Woody Allen to Texas First Lady Rita Clements.
In 1977, Jackson moved her show to greener pastures at KTVV-TV (now NBC affiliate KXAN-TV). Sadly, the show ended two years later, as the era of unique, locally produced shows gave way to the modern era of far more generic (and far cheaper) nationally syndicated programs.
The Carolyn Jackson Show may be long gone -- but thanks to TAMI, it's not lost. The TAMI library includes about 50 interviews from the show, along with a handful of related videos.
Film history buffs will find many of the interviews fascinating, as Jackson chats with actors and other Hollywood types plugging their latest would-be blockbusters. In one set of interviews, Martin Ritt, Sally Field and Beau Bridges discuss Norma Rae; in another set, Ridley Scott, Sigourney Weaver and Tom Skerritt do the same with Alien. Woody Allen, interviewed for the release of Annie Hall, explains why television is "soul deadening," and Nick Nolte sings the praises of North Dallas Forty -- the novel, that is.
Of course, not all of Jackson's interviewees struck cinematic gold; if the TAMI Carolyn Jackson Collection proves anything, it's that audiences are eternally fickle. Consider, for example, poor Rudy Durand, the proud writer, director and producer of the 1979 pinball film Tilt, starring 14-year-old Brooke Shields and Charles Durning. The film took 11 years to finish; apparently, its box-office run was about 11 days. Then again, some Hollywood royalty fared no better: Jackson interviewed Peter Bogdanovich and Cybill Shepherd about their upcoming film At Long Last Love, which, ahem, wasn't quite another Last Picture Show.
A great example of Jackson's celebrity interviews was with Mark Hamill, conducted during a press junket for a new movie called Star Wars. (Okay, technically Hamill wasn't a celebrity at the time -- but within a couple of months he became one of the most famous people in America.) While Jackson got the name of Hamill's character wrong -- she called him "Luke Skywaller" -- she was right about one thing. "Let's talk about Star Wars," she told him, "which, incidentally, I adored, and I know all America will. Everybody's going to like it." Perhaps the most amusing thing about this interview is that while Star Wars was getting great critical buzz before its release, Jackson and Hamill obviously had no idea that it would become one of the most successful and beloved movies of all time. (In later videos, Jackson interviews Star Wars producer Gary Kurtz, who mentions plans for a sequel -- not a bad idea, huh -- and 20-year-old newcomer Carrie Fisher.)
This text will be replaced
View original at Texas Archive of the Moving Image.
Jackson also produced many show segments about Central Texas's culture, which was (and still is) a gold mine of great (and yes, sometimes greatly mundane) stories. A good TAMI example of great mundanity is Tour of Pflugerville, featuring footage Jackson shot on location in Austin's northern neighbor in the late 1970s.
Jackson's interviews with the town's first mayor, I.B. Krienke, and then-current mayor, Clarence Bohls, aren't exactly riveting television; the two are somewhat charismatically challenged, and their main concerns seem to be budgets, streets and sewers. Fortunately, an interview with the organizer of the town's German heritage festival, Deutschen Pfest, is a bit more lively. But the most interesting segment happens in the ancient Pfluger Market, where Jackson interviews owner George Pfluger, a descendant of the town's founders. Like the rest of Tour of Pflugerville, the interview is pure daytime TV fluff. But it's interesting fluff, particularly for its glimpses of a still-rural Pflugerville that suburbia swallowed decades ago.
This text will be replaced
View original at Texas Archive of the Moving Image.
After her show ended in 1979, Jackson joined the Texas Film Commission. In another interesting TAMI video, KTBC news anchor Mark Hanna interviews Jackson in 1981 about the commission's history and her job, which was to promote Texas to television commercial producers. The interview is a great record of what was happening in the Texas film industry at the time, as Jackson mentions many large and small-screen movies then in production (including Raggedy Man and Barbarosa). She also mentions that The Best Little Whorehouse in Texas had been delayed, with no date set for production. (Unfortunately, production commenced later that year.)
This text will be replaced
View original at Texas Archive of the Moving Image.
Few would argue that Jackson's program was great art. But her contributions to Austin television were immense, and her show was a quintessential example of local daytime programming. Today's syndicated, focus-group-friendly fare may be far slicker -- but for many viewers, The View will never match the low-budget, sometimes painfully unpolished and wonderfully real appeal of a local program like The Carolyn Jackson Show.
To access the entire Carolyn Jackson Collection on TAMI, I recommend searching on "Carolyn." (For some reason, searching on "Carolyn Jackson" produces a list of less than half the videos.) For an entertaining look at Jackson's career, watch The Carolyn Jackson Story, a short film nominated for Best Texas Film at the Hill Country Film Festival in April. The short doc is a Faces of Austin 2011 selection and the City of Austin has made it available online. I've also embedded it below.