SXSW 2008: David Modigliani and 'Crawford'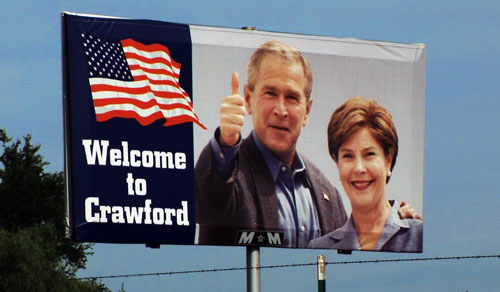 Several of this year's SXSW documentaries focus on events in other parts of Texas. Austin playwright and filmmaker David Modigliani has been working for some time on a movie about Crawford, Texas, which many of us hadn't heard of until it became known as the home of the Bush ranch. Modigliani showed a rough cut of his film Crawford last year at an Austin Film Society Doc-in-Progress screening, and now the documentary is having its world premiere this week at SXSW. This is producer/director Modigliani's first feature-length film.
I was curious about Crawford, and then I met David on Wednesday night at an AFS pre-SXSW mixer, so I emailed him a few questions. Our discussion follows.
Describe your film for us.
What happens to the 705 people of Crawford, Texas when George W. Bush moves to town? Shoved into the spotlight for political stagecraft, their insular town explodes, pushing a progressive teacher her her favorite student to the brink -- and beyond. Invaded and abandoned, Crawford booms and busts, like the Presidency itself. Now, through the eyes of Crawford's residents, comes a unique reflection on the last seven years -- a people's history of the Bush era.
What made you choose this particular subject for your film?
When I found out that Bush wasn't from Crawford -- that he'd moved there in '99, just a couple of months before announcing his candidacy -- I became interested the town he was using as a prop for his political narrative. As time went on, however, I became intrigued by the people of Crawford, and the impact all this political stagecraft had on their lives. In the end, Crawford is a unique subject for a doc because it serves as a specific microcosm of the sweeping arc of the Bush era.
How long have you been working on Crawford?
Three years. I'm excited for it to hit the big screen at the Paramount! Couldn't have envisioned that when I walked into Crawford's gas station looking for a first interview in the spring of 2005.
Are there any "Austin connections" in this film (crew, locations, interview subjects)?
Deb Lewis was a great DP on the last couple of shoots and Diane Zander Mason did some sound work with us, but most importantly all the original music in the film was composed and performed by Austinite David Rice and the film was edited with Austinite Matt Naylor at 501 Post. Those folks have been incredible collaborators and a true testament to the quality of Austin's film community.
Can you tell me a little about the advisory board credited for this film, which includes some well-known names (Ted Danson, Mary Steenburgen, Jake Gyllenhaal)? How did they fit into the filmmaking process?
Jake, Ted and Mary both responded with real excitement to an early cut of the film. They gave notes on that cut and later ones, and have advised on decisions regarding representation and approach to distribution. They're smart, progressive-minded people with great eyes for film.
What are your future plans for this film?
My future plan is to screen the film at the Paramount Theater 3 times during SxSW :) After that, we'll be at AFI Dallas and the Independent Film Festival of Boston. Somewhere in there, I hope that our rep, Submarine Entertainment (Super Size Me, Spellbound, Control Room) is able to achieve a domestic broadcast agreement and that our international rep, Ro*Co films (No End in Sight, Born into Brothels, Jesus Camp) is able to find some international outlets for the film. I think it will play well abroad.
What's your favorite part of SXSW?
Watching 76-year-old Bill Holmes, a former Justice of the Peace in tiny Crawford, Texas and a subject in the film, ride into Austin and see himself on the big screen at the Paramount.
What one place to visit/eat/drink would you recommend to out-of-towners here for SXSW?
A swim at Barton Springs. A great place to exercise...or to shake a hangover.
Crawford screens three times at the Paramount during SXSW: Saturday 3/8 at 4 pm, Monday 3/10 at 11 am, and Saturday 3/15 at 1:30 pm. David Modigliani will be at all the screenings for Q&A sessions. Visit the movie's website to watch a trailer and find out more about the film.