SXSW Review: Wuss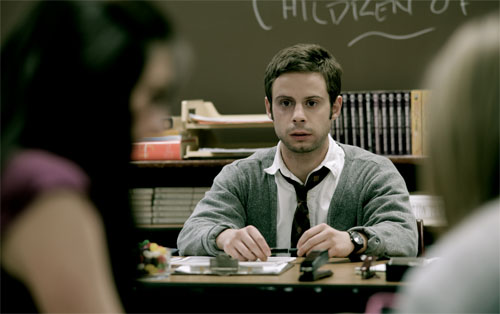 For me, SXSW 2011 may be the year of the charmingly disturbing film ... although come to think of it, I saw a few of those in 2010 too. I've always said that I don't want to watch movies with unsympathetic main characters, but in the past couple of years, filmmakers -- those in Texas particularly -- have made me change my mind if the film is sufficiently good (or better yet, funny). The latest film from Texas filmmaker Clay Liford (who just moved from Dallas to Austin) is Wuss, a movie about a pathetic wet noodle of a loser, someone you'd shrink away from at a party or in the office breakroom, who is far more compelling than you might initially guess.
Part of the credit here must go to Nate Rubin, who portrays the character described in the title, Mitch. Mitch manages at first to draw the attention of a charming woman at his high-school reunion, even when he admits he's a high-school English teacher living with his mom ... however, she's suddenly repelled by him after he cows to verbal nastiness from the school's vice principal, Wally, played by local filmmaker Alex Karpovsky, who's developing a niche for believably awful characters.
We soon see that everyone kicks Mitch, either verbally or in the case of his big sister, physically. His first day teaching English exposes him to a whole room of new bullies, and shows him that students are much more disruptive -- even criminal -- than they were in Mitch's day at the school. He's soon in over his head with the brutal Re-up (Ryan Anderson), but on the other hand, finds unexpected relief from his best student, Maddie (Alicia Anthony). He's drawn deeper into darker situations as the movie progresses.
Wuss manages the challenge of drawing a nebbishy character into unlikely situations without making anyone overly cartoonish, and keeping both Mitch and Maddie realistic and complex. This could so easily be an over-the-top comedy, with Mitch's group of Dungeons-and-Dragons-playing friends and Maddie's gun-dealing, paranoiac brother, played to be both hilarious and scary by Jonny Mars. And yet behind the quirks and near-comic cruelty, Liford and his excellent cast give us a peep into humanity. Mitch's sister is almost unbelievably awful, but when we find out why she's still living at home, she's a bit easier to understand.
This isn't a comedy, despite some very funny moments and a few minor comic stereotypes -- Gayby director Jonathan Liseki makes a brief but memorable appearance as a coach trying to teach. But Liford chooses to dig past the obvious, and Wuss becomes a story about a character struggling to deal with a brutal world, when he lacks the necessary thick skin.
Wuss has one more screening at SXSW, on Saturday at 11:30 am at the State Theater. Don't miss it.
Austin connections: Wuss is really a Dallas film; much of it was shot at Garland High School and the surrounding area. Producers Adam Donaghey, Barak Epstein and Eric Steele are also co-founders of the revamped Texas Theater in Dallas. Writer/director Clay Liford now lives in Austin, as does Alex Karpovsky (and I think Jonny Mars).