SXSW Review: My Sucky Teen Romance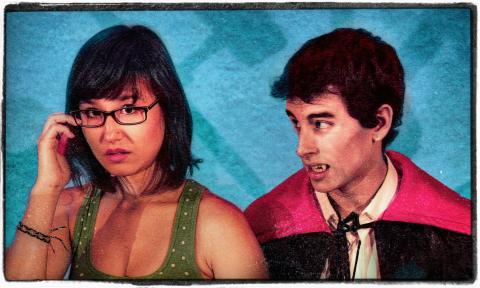 It bodes well for Austin filmmaker Emily Hagins's new feature, My Sucky Teen Romance, that the current Twilight-fueled vampire craze shows no signs of abating. Last year's installment of the bloodily romantic franchise, Eclipse, grossed more than $300 million, and new Twilight movies will be released this year and next. It seems that tweens and teens (and adults who dare admit it) have not yet had their fill of films and novels about pale, fanged, lovelorn teenagers. (No, I'm not one of those adults. But I think you knew that.)
Of course, I'm sure Hagins has no aspirations that her film will gross $300 million; the teenage filmmaker probably be happy just to find a distributor. But if the wildly enthusiastic reception at My Sucky Teen Romance's raucous world premiere at the Paramount on March 15 is any indication, a lot of Hagins's friends and fans hope the movie will be a smashing success.
My Sucky Teen Romance's story is more or less what you would expect in a film of this genre. Long-undead teen vampire Vince (Devin Bonnée), in his relentless quest for a sanguinary meal or two, bites the necks of grocery store employees Paul (Patrick Delgado) and Cindy (Lauren Vunderink). At a science-fiction convention a short time later, newly minted vampire Paul (who easily blends in with the costumed convention goers) gets to know cute but shy Kate (Elaine Hurt), a customer at Paul's store who's long had a crush on him. The crush is mutual, but neither party has had the courage to act on it until they spend an evening together at the convention.
Of course, vampire love is never simple; during an awkwardly passionate moment, Paul accidentally bites Kate in the neck. (He clearly doesn't mean to. As many a teenager has explained to his or her parents, sometimes these things just happen.) Soon enough, Kate exhibits some classic symptoms of blood-sucking undeadness: an aversion to garlic and a disconcerting ability to smell a drop of blood from across a room, not to mention an impressive set of fangs. Panicking, Kate enlists the help of her friends Allison (Lauren Lee), Mark (Tony Vespe) and Jason (Santiago Dietche) in a desperate attempt to turn herself back into a human and stop Vince and Cindy (also attending the convention; where else would they hide?) from claiming more victims.
No, this isn't exactly deep stuff. But does it need to be? My Sucky Teen Romance isn't about intricate story arcs or original, complex characters. It's a quintessential teen comedy, and in this respect, it often succeeds.
If My Sucky Teen Romance has one standout quality, it's that it is a wholly authentic teen movie. From the writer/director (Hagins was 17 when production began last year) to the cast and much of the crew, the movie is the real deal: a film made mostly by teens for teens. In this respect, it trumps almost all its competition. Unlike most films marketed to the under-20 set, My Sucky Teen Romance has nary a 25-year-old actor posing as a high school student. What's more, the film is refreshingly free of condescending storylines and fake-sounding dialogue obviously created by adults who've forgotten what it's like to be an adolescent. The teens in My Sucky Teen Romance look, sound and act real because they are real.
Hagins obviously has a talent for directing, as My Sucky Teen Romance zips along with not a single dull moment. And there are plenty of genuinely funny lines. Of course, some of the humor is of the rude and crude variety you would expect from high school students. (Note: At 46, I still like rude and crude humor.) But in this movie, that's not really a bad thing; most of the jokes definitely connected with the Paramount's largely teenaged screening audience.
The script doesn't pretend to be terribly sophisticated, and the characters aren't quite three dimensional. But My Sucky Teen Romance is so good natured and moves along so briskly that it's easy to forget the lack of depth and stay focused on the humor and quirky characters. And many scenes do work quite well; I especially like the sequence early in the film when Vince first appears in Paul's grocery store. I also was impressed with the film's micro-budget but effective production design and art direction, complete with Eighties-throwback videogame sequences and vivid comic-book colors.
I do have one quibble with the film's overall tone: I had hoped My Sucky Teen Romance would be much sexier and snarkier, a sort of indie anti-Twilight. I think the film would be even more fun if it were less chaste. As real as the characters are, some of them are unrealistically wholesome. After all, this is 2011; alive or undead, today's teens are often sexually active, or at least very sexually frank. On the other hand, there are a few great sexual gags, such as an amusing discussion of how vampires' lack of blood flow prevents certain undead male body parts from, ahem, coming alive. But overall, I do wish My Sucky Teen Romance had a bit more, you know, bite. (I make no apologies for the pun.)
The young actors in My Sucky Teen Romance -- many of whom are nonprofessionals making their film debuts -- perform respectably well, and many have great comic timing. The standout is Hurt, who is well cast, very natural and very appealing as the sensible but understandably stressed-out Kate. Bonnée is campy and coolly Fifties-retro as Vince, and Delgado is a convincingly lovelorn Paul. I also must give a nod to Sam Eidson, who's in fine (if sometimes over the top) comic form as sci-fi and horror fanboy Lyle.
Kudos to Hagins and her cast and crew for completing a feature-length film at an age when many of their peers lack the motivation to do their homework, much less take on such an enormous project. (Actually, My Sucky Teen Romance is Hagins' third feature. We all should be so ambitious.) My Sucky Teen Romance isn't perfect, but it's campy, escapist fun. I hope we'll see more good work from Hagins in the future. And I expect we will.
Austin connections: My Sucky Teen Romance was made entirely in Austin with a local cast and crew. Look for familiar Austin sights such as the Crestview Minimax.
My Sucky Teen Romance screens again on Saturday, March 19 at 8:30 pm in the Rollins Theatre.