Austin at SXSW 2011: Alan Berg, 'Outside Industry: The Story of SXSW'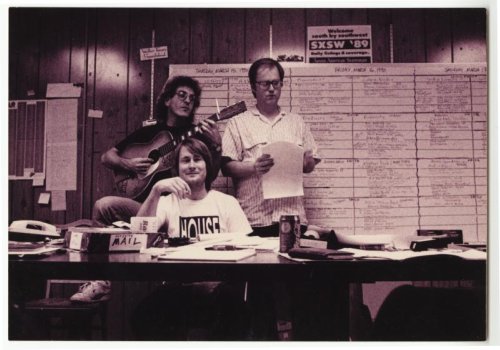 I attended my first SXSW Music festival in 1994 but began volunteering in 2000. I've been a web competition preliminary judge, crew chief for the trade shows and information booth, and a SXSW Interactive panels liaison. However, the most memorable time has been spent in the trenches of the SXSW Music Festival with Special Venues, handling line management and crowd control at film premieres and music showcases. Even now I am still awed by the sheer number of venues, bands, and attendees that seem to double every year.
Despite my involvement with SXSW, it wasn't until I watched Outside Industry: The Story of SXSW that I truly understood the birth and evolution of the largest music industry event in the world. This documentary from the Austin film, video, animation and documentary company Arts+Labor offers an intimate perspective on how four guys living on next to nothing -- Roland Swenson, Louis Black, Louis Jay Meyers and Nick Barbaro -- created a benchmark for alternative culture.
I met and spoke recently with Arts + Labor co-founder and president Alan Berg, who directed Outside Industry: The Story of SXSW. See what he had to say about the movie after the jump.
What made you decide to do a film about South by Southwest?
I was a reporter with KVUE television in the late 80s, so I was working here in Austin when they had the first SXSW Music Festival. I was curious about the festival but couldn't cover it because I was a political reporter. Finally in 1994 when I was at the affiliate in Dallas, I talked my boss into letting me branch off from politics for a weekend and come down and do something on SXSW. I did a half-hour segment, won a regional Emmy with it and caught co-founder Roland Swenson's attention. He called and asked if I was interested in coordinating the taping at their tenth anniversary in 1996. We came down and did the taping but the footage just sort of sat around. I always thought it was interesting but didn't really do anything with it.
So Roland calls in August and asks, "Do you want do something for our 25th?" I said sure, with the caveat that it was an independent production, and that we wouldn't take any money from them. We would have editorial independence because that was the only way that it was really going to do anybody any good, so we just sort of jumped in. There were eight of us that worked day and night for seven months to get the film done.
Outside Industry: The Story of SXSW contains diverse and extensive amount of footage -- what other resources were at your disposal?
We aggressively worked our network of contacts. The real lifesaver was that the Austin History Center had started work already on a 25-year retrospective. Tim Hamblin over there had collected a bunch of archival video including the New Music Seminar. Tim actually videotaped that first black-and-white keynote that they had -- he had all that footage. So we partnered with Austin History Center for the early stuff, and we did a blanket deal with KVUE to raid their archives and take anything from their coverage. We just started working our network. Dawn Cooper Johnson who is the producer on Outside Industry knows Lee Daniel, and he had this footage of the black-and-white grainy footage of punk performances in the early eighties. We tracked down Debbie Pasteur in Chicago who had the footage of the Austin Chronicle fire. Jim Rosenthal, one of our younger producers, knows the kids that came down and taped a lot of the day shows last year. We just kept working the angles and as stuff came in we fitted it into the timeline.
You were an award-winning reporter and now you're a filmmaker -- how do you foster creativity within yourself to put forth a piece such as this because you are dealing with the arts now?
I think of myself as a storyteller, I enjoy listening and telling stories. I've always believed in finding talented people and listening to them in what it is we are doing here. When you have a whole bunch of smart people that are working on something, you get the benefit of all their talents. Everybody front to back on this film is very good at what they do and so that helps. We have discussions about the narrative and the aesthetic. It's all these things that go into making the film, and so it's not just me. It's a bunch of us that are just sitting around -- Clay Liford who has Wuss here at SXSW was walking down the hall one day, and Dawn and I were talking about one particular scene so we asked him to watch it. Having that ability really helps elevate the end product -- a lot of minds here.
You mentioned earlier the need for editorial independence. Was there any moment that you felt an influence on your coverage of issues and criticisms?

I think it went fine. I said for me to do this, I needed editorial independence and they said sure. I didn't know honestly how that was going to play out. I knew that they had some idea that we were going to look at controversial issues, because I asked the questions in the interviews, so they had to know what was coming. But all along, I told people that I think we were going to premiere at SXSW, but I'm not sure. We were going to show it to them before we took it onscreen somewhere. If Louis (Black)'s head explodes, then it's not going to show at SXSW. That was the moment that I was nervous, showing it to them. At the end of it, they just said that they liked it and they didn't ask for anything to be changed.
I think what was working in our favor there was that I've known them (the founders) forever, and all of them except Louis Jay Meyers have a journalism background so they understand the rules of the game. I think they know also that a vanity piece is not going to help them in the way that an independent production is. At the end of the day, I think that this film is good for the festival. It is going to help raise the profile, the backstory of the festival. People see all this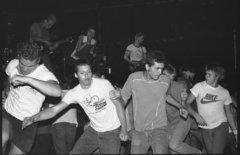 out here, but to know how it came about I think can only be beneficial in the long run.
I remember talking to a filmmaker, about a different project -- he'd had a real successful premiere. He said, "All these people see the glory, but they don't know the story." What he meant was how hard it is, that any artistic endeavor is hard. Seeing what these guys started with, it just didn't happen overnight. Even when we come current after Louis Jay Meyers' departure, you're watching the film and thinking that they've got it made. Then we introduce the threat that the day parties pose, and the criticisms they are receiving from younger journalists. We introduce the fact that even now -- 25 years in -- they still worry about whether they are going to be here two years from now. So it never really ends, and I wanted people to understand that.
How did you find the balance to keep Outside Industry: The Story of SXSW from becoming a vanity piece, and showing the criticisms? Did that come naturally, or was it a more structured approach?
We all had an advantage in that we're Austinites, and we know the event and we know what the criticisms are of the event because we've read about them, or sat in a bar and heard people offer their opinions. We sort of knew the yin and the yang. As you go through and fill that stuff in, you begin looking for who might be the voice of that constituency. Billy Bishop (Obsolete Industries) is pretty articulate, and that was key. I think that Paige Maguire from Austinist is articulate too. You don't want to have a situation where you have the founders answering their own criticisms. As we were editing, we were like, "We need somebody to voice this or that," and find our way from there.
Who is your target audience for Outside Industry?
Anybody who is curious about the festival -- I hope people here in Austin. I personally feel like any business student at The University of Texas should watch. At the end of the day, it's a story about business. What I like about it, this sort of over-arcing message is -- find something that you are passionate about and pursue it, period. That's what the SXSW founders did, and so by doing that things gradually began happening for them. I like the fact that when we see so much about "What is your business plan, what is your burn rate?" They didn't think about any of that. They were talking about ideas, and talking about art, and how to sustain themselves in pursuing those passions and I think that is really interesting.
How would you gauge the success of this film?
If people get something out of it. At the end of the day, I just want to get it right. If you are making something and you are putting it out there, you don't know how people are going to react to it and you can't really control it. I want something that is an accurate representation of the evolution of the event and that people enjoy watching. That they were entertained and they enjoy it. If that is the case, then the film would be successful for us.

Outside Industry: The Story of SXSW premieres on Wednesday, March 16 (today) at 4:30 pm at the Paramount Theatre and screens again on Saturday, March 19, at noon at the Vimeo Theatre in ACC. A limited amount of advance purchase tickets are available through the Paramount ticket page. Visit the Outside Industry: The Story of SXSW official website for more details about the film. You can also learn more about the history of SXSW at the Austin History Center's "5X5Y: 25 Years of SXSW Music" exhibit, which runs through July 31.