SXSW Review: blacktino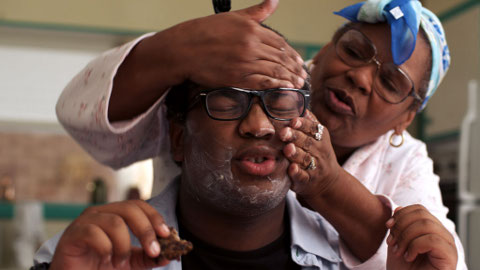 On Friday night, Austin-based filmmaker Aaron Burns brought his first feature-length film, blacktino, to the Paramount Theatre for its world premier. It was an event worthy of SXSW opening night. A food truck was parked on 7th Street, giving out free tacos to the crowd. A photo backdrop was setup for people to take pictures. Even the director was out -- buzzing a bit from opening-night adrenaline -- walking the line and greeting the enthusiastic crowd.
The movie started late, due to delays in seating, but once it did the crowd was no less enthusiastic. Every credit was given a loud cheer. If they showed those awful "FBI warnings" before cinema films, I think even that would have gotten applause. This clearly was a hometown crowd rooting for the home team. They even applauded a shot of the Austin skyline, later in the film.
Blacktino is a dark teen comedy about drama nerd Stefan Daily (Austin Marshall), born of an African-American mother and a Hispanic father. Daily lives with his Nana (charmingly played with a small dose of Betty White spunkiness by Selma Pinkard). In his spare time, Stefan writes music and keeps a blog. His school is divided into rigid cliques, and it's not that there is a lot of hostility among the groups -- they just don't mix.
Blacktino wants to say something about race and prejudice. The messages, unfortunately, seem a bit mixed. The overt message is a simplistic "Underneath it all we're the same, so why can't we get along?" But the movie uses too many shortcuts that depend on stereotypes. Up until a certain incident, Stefan is accepted by the black clique, even though he's an outsider to them. Are we to believe he's accepted just because of the color of his skin and the "black power" pick in his hair? In a truly color-blind world, wouldn't he be disparaged by all the other kids -- regardless of creed, color, or sexual orientation?
Some of the supporting characters play as flat stereotypes (the Asian guy, the gay guy with the hair who dances), and that strikes a sour note in a movie that wants to say something about prejudice. When the Neanderthal guy gets a big laugh, it's not because he does something particularly clever or funny, but because he plays against stereotype.
First-timer Devyn Ray delivers a good performance as Laura Vega, Stefan's best friend, who clearly wishes she was more than just a friend. She was appealing, and turned her sassy comic lines (and ... ummm ... comic pantomimes of oral activities) for a good laugh.
The blacktino production is strong, and that may come from skills Burns developed working on visual effects for big features at Robert Rodriguez's Troublemaker Studios. The audio in a couple of the outdoor scenes seemed a little muddled, but otherwise the movie was of a quality worthy of the Paramount.
Speaking of Troublemaker Studios, Burns was able to bring in a couple of their house favorites for enjoyable performances in supporting roles. Michelle Rodriguez played "Citizen Jane," the action-adventure movie star with guns and attitude. Danny Trejo thrilled the crowd as Laura's dad. Daryl Sabara played an amped-up waiter -- like the Chotchkie's waiter in Office Space after three Red Bulls. And Jeff Fahey was appropriately creepy as Stefan's mom's new boyfriend.
While not always successful, blacktino gets an A for effort. It was fun to watch with a receptive hometown crowd. It may not play as strongly, however, in other venues and cities.
Austin connections: blacktino was shot in Austin, and most of the cast and crew are locals. You can spot Friday Night Lights star Dana Wheeler-Nicholson as Laura's mom. Most of the school scenes were shot at St. Michael's Catholic Academy. You also can spot Alamo Drafthouse on South Lamar (and for Troublemaker fans, the Bone Shack sign there), Toy Joy, Hut's Hamburgers, and Monkey See Monkey Do on South Congress. One of the film's producers is Elizabeth Avellan from Troublemaker.