Quick Snaps: 'When Angels Sing' in Northwest Park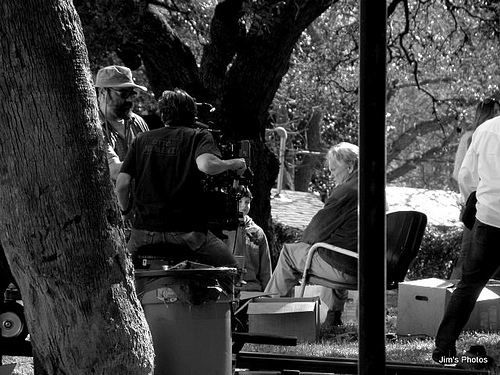 I mentioned the production of When Angels Sing a few weeks ago: Tim McCanlies (Secondhand Lions) is directing this adaptation of a Turk Pipkin story, and it's produced by Elizabeth Avellan. The cast includes many familiar faces from the music industry: Willie Nelson, Kris Kristofferson, Lyle Lovett, Sara Hickman and Harry Connick, Jr., plus Connie Britton.
When Angels Sing was recently shooting over in Northwest Park by Shoal Creek Blvd. in the Allandale neighborhood. I found some photos on Flickr from the shoot. Jim Lallen, who lives in Allandale, graciously gave me permission to publish some of his photos here. He was only able to take a few before someone on the production shooed him away.
In the above photo ("Action"), you can see Kris Kristofferson preparing to shoot a scene with a younger actor, barely visible -- I am wondering if this is Houston actor Chandler Canterbury, credited on IMDb as being in the cast. Kristofferson plays a character listed on IMDb as "The Colonel." I've got another photo after the jump ("The Crew") that includes a glimpse of director Tim McCanlies (in a cap and striped shirt in the background).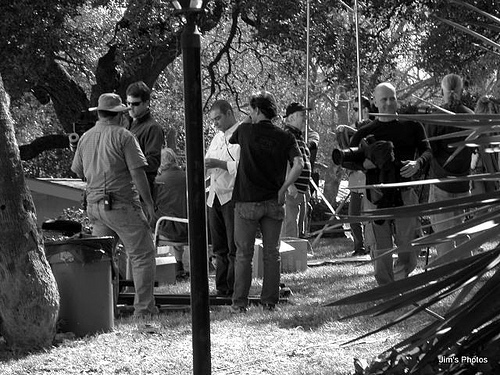 When Angels Sing is based on a Christmas story that Turk Pipkin originally wrote for his daughter, but ended up publishing in 1999
. It's about a father who had some unfortunate childhood holiday experiences and now hates Christmas, and how this affects his son. Looks like the father is being played by Connick, and the son by Canterbury.
For more details on the movie When Angels Sing, I highly recommend keeping an eye on Joe O'Connell's website. He is great about following local productions like this, and publishes not only casting news but calls for extras, and any set photos he can find. His coverage of the True Grit shooting in Central Texas was fascinating.
You can view all four of Jim Lallen's photos from the Northwest Park shoot in a Flickr set. I want to thank him again for sharing these photos.