2010 In Review: Mike's Top Umpteen Lists (Part Two)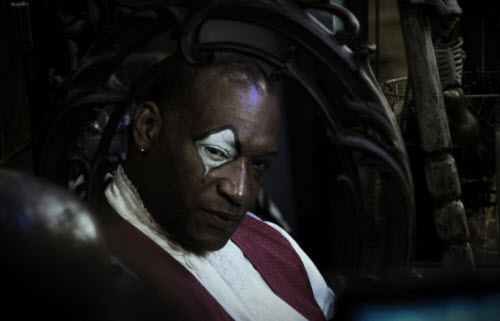 Read Part One for my top films and top flops of 2010.
I have also compiled two lists for flicks I think were overrated and underrated this year. Some of them would be in my top films or top flops except for their inclusion here. These movies either received too much love or in my estimation, too much hate from critics or audiences.
TOP UNDERRATED FILMS
#10 -- Shrek Forever After
I watched this with family on Christmas Day and was surprised at the critical vitriol that almost kept me from seeing it this year. It worked MUCH better for me than either Shrek 2 or Shrek 3. Not worthy of my top ten (or 20) but definitely not one of the worst things I've seen this year. 58% from critics and 64% from audiences. (Jenn's review)
How to see it? Available on Blu-ray
and DVD
.
#9 -- Legion
I really enjoyed this for scenes that were evocative of Sam Raimi's Evil Dead. Not the greatest, but I've suffered through much, MUCH worse. Only 18% from critics and 36% from audiences.
How to see it? Available on on Blu-ray
and DVD
.
#8 -- Jackass 3D
My first reviewed film for Slackerwood. I couldn't include it in my top films, because, well, it's Jackass. But critics only gave it 62% vs the audience's 77% rating. They should probably stop here before they kill themselves.
How to see it? Will be available on video in March.
#7 -- District 13: Ultimatum
Audiences only gave this 55% vs the 74% critics rating, but the parkour action in this Luc Besson-written title from Fantastic Fest 2009 is unbeatable. LOVED it. (Jette's review)
How to see it? Available on Blu-ray
and DVD
.
#6 -- The Expendables
Not sure why this all-star cast reunion written and directed by Sylvester Stallone only managed 41% from critics but 60% from audiences. It was fun and earned $103 million at the box office. (Debbie's review)
How to see it? Available on Blu-ray
and DVD
.
#5 -- The Lovely Bones
33% from critics but 57% from audiences, The Lovely Bones suffered derision due to its fantastical animated sequence and non-Hollywood bittersweet ending. As a film, technically, it was a mess, but it was a lovely mess that people seemed to want to bury under piles of hate. (Jenn's review)
How to see it? Available on Blu-ray
and DVD
.
#4 -- The Dry Land
Starring America Ferrera and Ryan O'Nan, I saw this at an AFS screening presented by Ferrera and writer/director Ryan Piers Williams. Comparable to The Hurt Locker told from the other side, a soldier and his family must deal with the fallout from his experiences in Iraq. 53% from audiences. (Don's review)
How to see it? Available on Blu-ray
and DVD
.
#3 -- Kick-Ass
A critical rating of 76% and audience rating of 83% couldn't save this AWESOME superhero story from a mere $20 million box office. (Jenn's review)
How to see it? Available on Blu-ray
and DVD
.
#2 -- TRON: Legacy
A second viewing and considerable thought as well as a read through an interview with writers Adam Horowitz and Eddy Kitsis have cemented my position that this film deserves better than the 49% critics have rated it. The audience appears to agree, with a 73% ranking.
How to see it? Still in local theaters.
#1 -- Hatchet II
Adam Green's second film this year (pictured at top) prompted me to join the "Hatchet Army." A paltry 37% from critics but 58% of the audience of 30 people that saw it before it was ripped from theaters due to its NC-17 rating. Thus, the box office take was only $52,600. DVD sales will hopefully make this profitable. Green is fast becoming my favorite genre filmmaker for his defiance of the MPAA, the fierceness with which he confronts pirates, the quality of his work and his strong relationship with his fans.
How to see it? Will be available on Blu-ray
and DVD
on Feb. 2.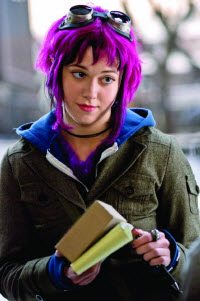 TOP OVERRATED FILMS
#8 -- Never Let Me Go
68% critical and 74% audience ratings, I liked the idea of the story. I love Keira Knightley and Andrew Garfield as actors, but the woodenness of the characters creates a wall that prevents me from really connecting to them. As much as I wanted to, I couldn't empathize and thus couldn't cry for their sad fate. This, coming from someone who can cry on command thinking of Titanic or the "Jurassic Bark" episode of Futurama. That just made me hate this film. (Elizabeth's review)
#7 -- The Fighter
This just-released film is at 89% critic / 90% audience on Rotten Tomatoes. I thought it was a great film, but aside from the "Crackhead Christian Bale" performance, I don't feel it rates this much adoration. Hard to explain, I would include my own praise of it as part of the over-rating, but I don't feel this will stand out as a memorable work. (Jette's review)
#6 -- Harry Potter and the Deathly Hallows: Part 1
I hate to list this here, because I adored the film. It managed to make bearable the most interminable, dull parts of the book. Still, this is the first half of a two-part film. I'd prefer the film be released as one full-length feature. 78% critic and 87% audience ratings are likely to pale in comparison to what we'll see for Part 2. (Jette's review)
#5 -- Paranormal Activity 2
I reviewed this here. 61% critical and 59% audience ratings and a box office take of $84.5 million are spookier than the bad editing and lack of follow-through.
#4 -- Shutter Island
A Scorcese classic, Shutter Island garnered 68% from critics and 73% from audiences while banking $125 million. A predictable cookie-cutter ending soured me on what was, mostly, a great experience. (Jette's review)
#3 -- Four Lions
This independent production released by Austin's Drafthouse Films and reviewed by me sits at 81% on Rotten Tomatoes, but the humor fails to connect for me in any way to justify the praise some have lavished on it.
#2 -- Scott Pilgrim vs. the World
Perhaps proof that I'm just too old to understand this generation, I enjoyed the film, but I simply can't understand what kept bringing some people back to watch this over and over in some cases more than 10 times. 81% critical and 85% audience reaction is far more than I ever expected, and doesn't fit the mere $31.5 million box office this earned.
#1 -- Little Fockers
I reviewed this turd last week before it opened to a $45 million weekend inexplicably beating True Grit. While critics gave it only an 11% rating, audiences awarded Fockers 62%, virtually guaranteeing that I will be forced to sit through a Focker Fourth. You idiots. You blew it up! Damn you all to hell!
TOP UNSEEN
These are the releases this year that for various reasons I have not yet seen. Ordered by audience rating, since I have not seen them.
#10 -- The Kids are All Right
94% critical reaction is enough for me, but the story looks good, too. 74% audience love. (Elizabeth's review)
#9 -- Burlesque
I'm a sucker for Cher. 37% critics but 75% audience would merit inclusion in the underrated category if I'd seen it.
#8 -- Megamind
I hear it's great. I just couldn't squeeze it in yet. 72% critics, 76% audience. (Debbie's review)
#7 -- Easy A
People seem to love it. I enjoy a good comedy. 87% critics, 78% audience. (Anne's review)
#6 -- Let Me In
I'm in the camp that resents the fact anyone ever thought Let the Right One In needed to be remade. I skipped this at Fantastic Fest in favor of other films that I might never otherwise get the chance to see. 89% critic and 78% audience reaction, however, is a good sign. (Debbie's review)
#5 -- Mother
95% of critics can't be wrong, especially when they agree with 84% of the audience. Can't get enough Korean revenge flicks.
#4 -- 127 Hours
93% critic and 85% audience love still can't overcome my squeamishness at this one. I can't watch someone even pretend to cut off their own arm, even to save their life. (Don's review)
#3 -- The Girl with the Dragon Tattoo
I really really have to watch this, soon. So say 86% of critics and 85% of the audience. (Laurie's review; Jette's DVD review)
#2 -- Black Swan
I'm 50/50 with Aronofsky so not sure how I'll enjoy this. 98% critic score and 86% audience score for The Wrestler but I still HATED that. So Black Swan's 87%/90% rating is not a guaranteed good time for me. (Jenn's review)
#1 -- Exit Through the Gift Shop
98% critics and 93% audience make this one of the top films of the year. 100% great word-of-mouth to my ears, and Banksy is hot right now. Luckily, I hear it's on Netflix Watch Instantly, so I'll be seeing it soon. (Debbie's review)