A Very Documentary Weekend with Wiseman and Lee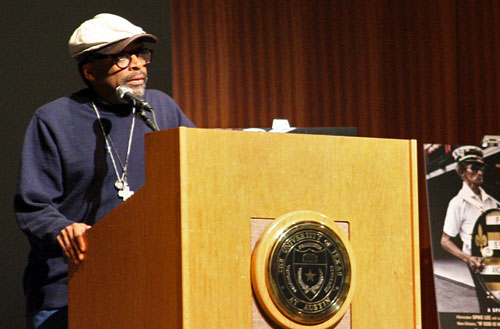 Last weekend, two very different but quite excellent filmmakers were in town to show some of their latest documentary work. Both were actually here on Sunday so you could dash across town and make a double-feature of it, but I decided to do it the easy way. On Saturday, I went to Alamo Drafthouse on South Lamar for a screening of locally shot Boxing Gym with director Frederick Wiseman in attendance, and on Sunday, I was at the LBJ Museum to watch an excerpt from Spike Lee's four-hour documentary for HBO, If God Is Willing and da Creek Don't Rise.
Wiseman was originally only scheduled to be at two Alamo screenings on Sunday: Boxing Gym and his 1967 film Titicut Follies. The Sunday night showing of Boxing Gym, sponsored by Austin Film Society, sold out awfully quickly. Fortunately, he agreed to attend two of the screenings on Saturday, so some friends and I were able to get tickets at almost the last minute.
After the jump, here's a photo of Richard Lord, at whose gym Boxing Gym was shot; documentary filmmaker Frederick Wiseman; and Alamo programmer Lars Nilsen, who moderated the post-film Q&A.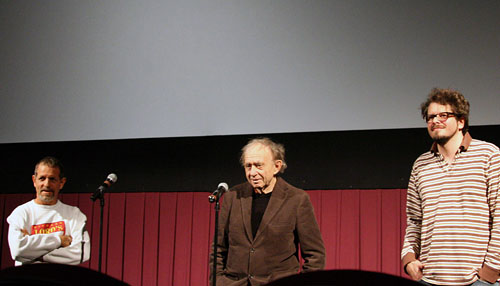 This was my second time seeing Boxing Gym -- I had caught it at Austin Film Festival in October, when I reviewed the documentary, but wanted to return to hear Wiseman. The movie held up quite well on a second showing, happily. I was worried that the non-narrative structure would not lend itself well to multiple viewings, but this time I caught things I hadn't noticed the first time: I was able to spot recurring "characters," and paid more attention to the people than to the setting and the overall look of the film. Slackerwood contributor Don Clinchy was with me and spotted local author Jan Reid working out in one scene, which I hadn't caught previously.
I do think the sequence in Texas Stadium doesn't quite fit with the rest of the movie, especially when watching it with other people who didn't know anything about the gym and its traditional Sunday trip to run up and down the stadium ramps. The problem is that once we get back in the gym after the stadium, the film seems to be ready to end, and then doesn't. It makes the film seem to go on a little too long before the end. But this is a minor carp.
The Q&A after Boxing Gym was excellent, although I wished it had been about five minutes longer (something you rarely hear me say about Q&As). Wiseman discussed how he was able to shoot what looked like a very candid day in the life in the boxing gym, in which very few of the subjects seem to realize they are being filmed. He also talked about his desire to show boxing in a different and more accurate way than what we see in Hollywood movies -- going beyond the obvious aggression into the beauty of the sport, and the types of people who train in boxing gyms.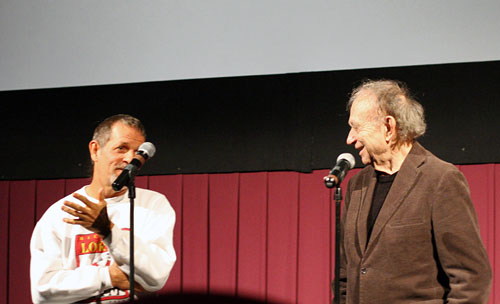 I regret not going back to Alamo to see Titicut Follies the next day, but unfortunately, it bumped into the event with Spike Lee, and I can rent the movie (and hope to do so soon). I had originally assumed that Spike Lee's presentation of part of his documentary would be a standard "show the movie and then let the audience ask questions" format. Boy, I could not have been more wrong. For "An Afternoon with Spike Lee," The University of Texas apparently wanted something more academic and educational, and without the risk of spontaneous questioning from mere audience members. The excerpt from Lee's film was an hour long, but the event ran a good three hours.
Four people introduced Spike Lee before he even came on stage. Fortunately, the introductions were quite interesting. I had never heard Rice University professor and author Douglas Brinkley speak before, but his thoughts on Lee's work and on New Orleans were interesting enough that I am planning to go find some of his books. John Pierson spoke entertainingly about Lee, having known him from the days when Pierson worked as the producer's rep for She's Gotta Have It.
Lee finally took the podium and made some opening remarks, setting the scene for the excerpts from If God Is Willing and da Creek Don't Rise. He said that he had originally finished shooting the documentary right before the BP oil spill in the Gulf Coast ... but when that happened, understood its magnitude and the effect on New Orleans and decided to go back into production. We saw the fourth hour of the documentary, which focuses primarily on the oil spill and how it affected a number of people in South Louisiana.
I'm really pleased that he showed that particular excerpt. For one thing, he had an excellent handle on the situation. Lee has a great talent for interviewing people, from fishermen to the Mayor of New Orleans. And on a personal level, I had more or less promised myself I wouldn't watch any more Katrina-related documentaries, especially not in public, and although I made an exception for Spike Lee because When the Levees Broke was so amazing, I go through far fewer tissues watching oil-spill footage than post-flood footage of the neighborhoods I grew up around. I do still want to watch the entire documentary, but from the comfort of my own home.
After the excerpt, UT had arranged for a panel to discuss If God Is Willing and da Creek Don't Rise as well as the historical and political context surrounding it. A half-dozen professors and students joined Spike Lee onstage, including UT Radio-TV-Film Chair and local filmmaker Paul Stekler. Stekler was, for me, the delightful surprise of the panel -- it turns out that he had once worked for New Orleans politician Bill Jefferson during his campaign for mayor. (Jefferson is currently serving jail time after that little incident with the money in the freezer.) The panel moderator also asked Lee questions that had been written ahead of time by student groups.
Although some of the questions and discussions were quite interesting, I do wish that the moderator had taken a few questions from the floor. I like a little spontaneity in my post-film Q&As. I know that this means many Q&As often descend into the ridiculous or annoying, but I think a balance could have been achieved. I would have liked to have seen a discussion that included the audience, not just a panel of academics.
After the discussion, UT had a small surprise for Spike Lee: a UT football jersey. He looked somewhat bemused but accepted it graciously.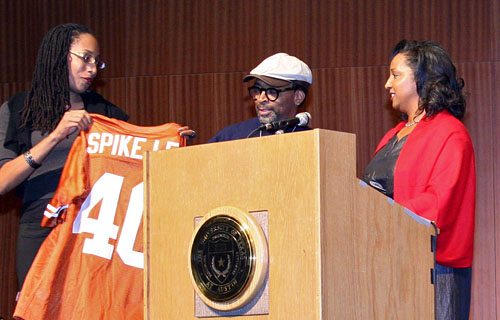 I'd love to tell you how to see Boxing Gym and If God Is Willing and da Creek Don't Rise, but unfortunately I can't just yet. Wiseman's film had a weeklong run at Alamo Drafthouse and at this point, I think we'll have to wait for DVD. I can't find any times scheduled for Lee's documentary on the HBO schedule -- again, I think DVD will be our best bet. I'll post info on these movies here at Slackerwood as it becomes available.