Alamo-Backed 'Badass' Film Website Launches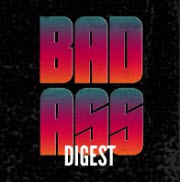 Today saw the launch of Badass Digest, the super-secret Alamo Drafthouse project for which longtime film writer Devin Faraci recently left CHUD. The ultra-cool digest opened with dozens of articles already penned and posted by Faraci (@devincf) and others by collaborators Roger Erik Tinch (@tinch) and Moises Chiullan (@moiseschiu). An eclectic mix of Faraci's musings on film and film-related happenings along with oddities from around the web, Badass Digest is fully integrated with Facebook and Twitter, allowing the "Badass Brigade" to immediately comment on and discuss articles with no pesky signup process.

In his introductory manifesto, Faraci promises "an unholy number of columns and features" including expanded coverage of food and booze as well as a return of his "Star Trekkin" column. Badass Digest is backed by Alamo Drafthouse owner Tim League and features links to the Drafthouse, Fantastic Fest, Mondo Tees and distribution company Drafthouse Films. The Badass Team page indicates that we may see articles at some point from Tim League and from Alamo staffer Henri Mazza.
With so many ventures, an online zine is a natural extension to unite them and publicize the brand. This inaugural release exhibits style and panache, but the question that first occurs to this writer is: How does this impact the relationship between the Drafthouse brand and movie website Ain't It Cool News?

It can be argued that the two have grown together over the last decade and that the Drafthouse owes much of its success to the association with and publicity from AICN. Likewise, AICN has gained benefit from having a strong relationship with the Drafthouse as a venue for special events, screenings, and in helping to found Fantastic Fest. With the creation of a new, slick presence separate from the AICN name, will the two entities be going their separate ways? With luck, there will be plenty of room for both Ain't It Cool and Badass Digest.