Fantastic Fest 2010 Day Two: In Pursuit of the Goofy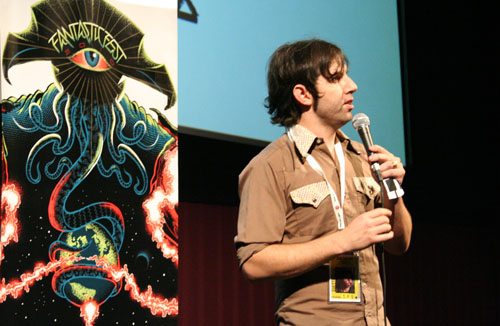 My Fantastic Fest experience this year, I realized this morning, has been focused on the goofy, off-beat and not too intensely violent films. Other contributors can cover the blood-soaked offerings; I'm seeking out the animated films and the silly films and the martial-arts films that have good fight scenes without anything too tortuous.
In fact, after the secret screening of I Saw the Devil last night, people who know me advised that maybe I wouldn't want to see that particular film at the press screening the next day, that its violence was a little too intensely realistically brutal for me. (I saw Zombie Roadkill this morning instead, which is entirely unrealistic and therefore lots of fun for me.)
I got to Alamo on South Lamar on Friday 10 minutes before the box office was supposed to open to pick up tickets -- only to find out that everyone else had been there for hours, the box office opened early, and I was left with relatively slim pickings in terms of screenings. I didn't particularly mind. I am going into most movies with few expectations and I'm enjoying just about everything I've seen so far. I wasn't into the mood for the Paramount today, so I left a couple of slots open and hoped that I would be able to get into some films on standby. So far, the standby lines seem to have been working well for many people, although I probably shouldn't tell you all this. Now you'll all do it and that's the end of easy standby. (I'm editing this while I'm in a standby line now, in fact.)
I am having a lot of fun this year on a very laid-back attitude -- whatever I see, I see, and I'll try to enjoy it. Possibly this is because I'm enjoying seeing so many people I know. It took me a half-hour to walk from Highball to Alamo South on Thursday because I kept running into people. I am not normally the Queen of Popularity, but people tend to be friendly at Fantastic Fest, and most people are better than I am about remembering fellow festgoers from year to year. So it's kind of like a big long non-annoying cocktail party, but usually quieter. Okay, it's nothing like a cocktail party. Never mind.
The point is that I didn't have a movie until 1 pm on Friday, but passed a couple of hours quite quickly over at the Highball (which opens at 11 am during Fantastic Fest and will serve you a nice lunch at that hour and everything) with former Slackerwood contributor Chris Holland (my goal is to get the "former" removed from that phrase sometime soon) and a variety of other people. Turns out Roger and Julie Corman were in the back of The Highball somewhere doing interviews at that time, so I kept seeing press who were about to meet the Cormans, and who told me all the interesting questions they planned to ask. Expect some kickass interview stories coming up soon, is all I can say. Also, the smoked duck breast at The Highball is a great lunch and it even comes with a vegetable so you can feel virtuous.
My first film of the day was Summer Wars, a Japanese animated film that was quite cute and even family-friendly for the most part. This is the second Japanese animated movie I've seen in two days, the other one being the fast, loud and out-of-control Redline, which was entirely different. Summer Wars is about a huge, adorably animated social network application with very twee avatars -- sort of a cross between Second Life and Facebook on steroids -- which is hacked by an artificial intelligence that may destroy the planet. A math genius and the crazy family he is visiting are the world's only hope for survival. I think this would be a wonderful double-feature match-up with The Social Network. And there was a scene with people eating train bentos, which is only interesting if you have a weird obsession with bento lunch-making like myself.
Best description of the movie comes from a tweet that Cinematical writer John Gholson made:"WarGames re-imagined as a Japanese ensemble family drama. And then animated."
I decided I needed a little break after that, so I sat out on the back patio at Alamo and wrote everything you've read above. I looked up at one point and noticed Elvis Mitchell, which was a pleasant surprise. I may have Twittered that "Elvis has entered the building." Totally forgivable under the circumstances. I also was surprised with a handful of bags of Swedish fish, eavesdropped on the shuttle drivers talking about who would pick up which celebrity when, and took some photos of the Zombie Roadkill taco truck setting up for the evening. (Check out Victor Diaz's photo of Thomas Haden Church at the taco truck later that evening.)
After another stop at The Highball to meet more press and mooch off their french fries, I headed back to Alamo to get in the standby line for Rubber, a movie I have hoped to see ever since I first heard about it this summer. I was at the front of the standby line and got in easily, although I ended up in the dreaded front row of the theater. The front row is not too bad if you just lean back and tilt your head a bit, unless you're eating dinner, in which case it's tricky. Fortunately, when the main character of the film is an expressionless rubber tire, you can look down at your mac and cheese occasionally and not miss too much.
Rubber is rather a one-joke movie: a car tire can kill people through telekinetic powers, and does so at length. But there are weird meta twists -- some of the characters are members of an in-person "audience" who are watching the film through binoculars. Are the characters who they appear to be, or are they actors? This will be a wonderful feature for a film class to analyze. It did lag in the middle somewhat, but had a hilarious ending.
Before the movie started, Alamo waitstaff placed fried chicken legs in front of each audience member, on nice little white plates. Zack Carlson (pictured above) explained that the chicken was related to the short film we were going to see before Rubber, The Importance of Awards in Advertising, which he said was the weirdest short being shown at Fantastic Fest this year. Zack is the Fantastic Fest shorts programmer, so he should know. I haven't seen many shorts yet but he may be right, and the chicken tie-in was bizarre.
As we were leaving the theater after Rubber, we were all given, appropriately enough, rubbers. Only at Fantastic Fest would you get fried chicken and condoms at a single screening.
I got in the standby line for Rare Exports, which looks like a fascinating twist on Santa Claus and Christmas stories, but the line was long and I realized I was pretty tired. So I decided to go home and catch up on sleep today. I'm beautifully well rested now and ready for a full day of filmgoing (which I've already started).
As I write this, I'm in the standby line for Sound of Noise and my chances look pretty good. I've got tickets for Legend of the Fist, Drones and Kidnapped and also hope to sneak into the midnight Primal screening to see the short film before it, the Zellner brothers' mysterious Sasquatch Birth Journal 2. I'm not sure I'll last through all these selections, but I'm sure I'll have a fun day ahead.