Photo Essay: 'Machete' at the Paramount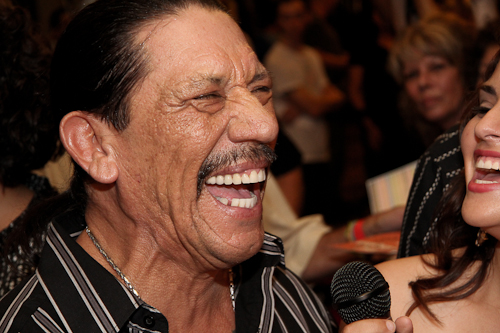 Last Thursday night, the Paramount was completely sold out for the local premiere of Machete, the latest film from Troublemaker Studios. The event was a fundraiser for the Texas Filmmakers Production Fund and the Texas Motion Picture Alliance (TXMPA). Director Robert Rodriguez was on the red carpet along with a number of stars and supporting cast from the locally shot film: Danny Trejo (shown above, naturally), Michelle Rodriguez, Jeff Fahey, Daryl Sabara, Elise and Electra Avellan, Billy Blair, Mayra Leal, and several others.
Paul Gandersman took some excellent photos for Slackerwood from the Machete red carpet, as well as a few from the intro and Q&A inside the Paramount. This was an impressive feat since the red carpet was extremely crowded that night, both with celebrities on the actual carpet and media surrounding it. Here are some of the best pictures from that evening -- mouse over them if you want to know who's in them. For more info on Machete itself, read Jette's review. Many thanks again to Paul for the following photos.