Need Weekend Plans? Be an 'Austin High' Extra!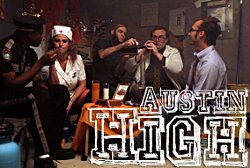 One of the films currently shooting here in Austin is a self-proclaimed "irreverent stoner comedy" called Austin High. I hadn't heard about this film until the man who knows everything about Austin movie news, Joe O'Connell, posted on his blog that Dog the Bounty Hunter had been cast in the movie. Turns out the film's director, Alan Deutsch, worked on the TV show Dog the Bounty Hunter, so that makes sense.
Further investigation led me to an Austin American-Statesman article about the production as well as the film's website, which has some entertaining stills from the shoot so far. The movie appears to be about a high school (not the actual Austin High here in town) with a stoner principal who is pressured to reform the school and mend his lazy ways.
This weekend, the Austin High production moves to Waterloo Park, and they are in desperate need of extras. I've reprinted their request after the jump. They promise "yummy snacks and sexy people," and what more do you need for weekend fun?
"Austin High is a modern day, irreverent stoner comedy set in our lovely city -- think Mel Brooks meets Dazed and Confused. The movie culminates with a big, Keep-Austin-Weird type rally that is being shot this weekend (Fri, 25th - Sun 27th) in Waterloo Park. We need a massive amount of people to come out and represent the city. ... If you'd like to help us, here are a few of the details.
We'll be in Waterloo Park on all three days, from 8 am to dusk.
We need the fewest number of extras on Friday. Probably only about 30-40, but we certainly won't turn anyone away.
Saturday is the day that we're wanting specific "weird" groups around Austin. (zombies, bikers, hippies, burners, go go dancers, teen werewolves, etc.) We're trying to stagger arrivals a little bit, so we're asking people to either come in the morning (8 am) or right after lunch.
Sunday is the day that we need sheer numbers. Any and all types of people, weird or otherwise -- we just need to fill up the park. We'll have a 30 foot jib that day, so any extras will assuredly be part of multiple epically cinematic shots.
"It should be a fun time all weekend- a chance for people to party in the outdoors and let their freak flags fly with other freaks.
Lastly, any generally interested parties can get more info at our website, and REALLY interested parties can RSVP for the rally by emailing austinhighextras [at] gmail [dot] com.