Review: The Secret in Their Eyes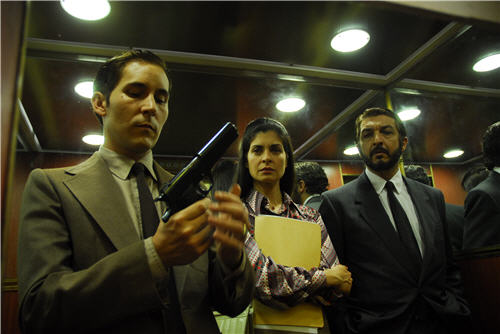 It's little wonder that the stunning crime thriller The Secret in Their Eyes (El secreto de sus ojos) won the 2010 Academy Award for Best Foreign Language Film. The Argentine import, opening Friday at the Arbor, is all at once lyrical, brutal, poignant and provocative, an intimate and personal journey with much broader implications about the nature of justice.
Equal parts police procedural, psychological thriller and love story, The Secret in Their Eyes is the story of recently retired criminal investigator Benjamín Esposito (Ricardo Darín), who in 1999 decides to write a novel based on a 25-year-old rape and murder case that still haunts him. The story is told largely in flashbacks to 1974, following Esposito and his colleagues as they investigate the crime.
Like many horrific crimes, the murder claims many victims beyond Liliana Coleto (Carla Quevedo), the young woman who is brutalized and killed. Her husband, Ricardo Morales (Pablo Rago), lives with long-term grief and emptiness that drive him to irrational behavior; for months, he deludes himself into thinking he'll find the killer by waiting for him every day in a train station. Esposito and his alcoholic partner, Pablo Sandoval (Guillermo Francella), may be hardened cops, but they develop an obsession with the case that jeopardizes their careers as they break rules to find evidence and clash with superiors to keep the case open.
During the investigation, Esposito's life is further complicated by his barely secret love for a beautiful colleague, Irene Menéndez Hastings (Soledad Villamil). Although the attraction is somewhat mutual, the relationship can't happen for many reasons. But Hastings also is so sickened by the crime that she risks her career to help Esposito and Sandoval bring the killer to justice.
Twenty-five years later, Esposito is still unhappy with the case's outcome, believing that justice wasn't served. And although they have been apart for decades, he's still in love with Hastings, once again barely hiding his feelings when he meets her to discuss his novel. Loose ends still abound as Esposito sorts out his emotions and his life while still pursuing the case, both in the pages of his novel and in a real-world search for closure.
Again, The Secret in Their Eyes is many things at once: a heartfelt romance, an introspective psychological study and a taut, unflinching crime saga, all told with stylish visuals and snappy direction. The film masterfully blends its varied personalities, seamlessly moving between crime scenes, chase scenes and intimate discussions, probing its characters' often painful personal lives as they battle the equally painful world around them. There is occasional humor to lighten the mood when needed, thanks mostly to Sandoval. He's amusingly quirky and clueless at times, and a great comic foil for his partner Esposito's relentless seriousness.
The acting is superb across the board. Darín's Esposito is all perpetual unhappiness, both personally and professionally, balanced by an unfailing humanity and passion for truth that drive his decades-long search for answers. Hastings could have been just another pretty-faced legal eagle (we've all seen this character in most every TV crime drama), but Villamil fleshes her out with grit and vulnerability. And Javier Godino radiates a soulless, creepy pathology as the film's requisite sociopath, Isidoro Gómez. It's difficult to pick a standout in such a strong cast, but I'll give the nod to Francella, whose hard-drinking and mostly incompetent Sandoval is a somehow coherent mix of self-destruction and selflessness.
Many viewers avoid foreign and subtitled films, and sometimes with good reason: While dialogue can translate accurately, culturally unique customs and world views often do not, leaving foreign audiences confused and/or bored. But even subtitle-shy viewers can enjoy The Secret in Their Eyes, a film with so many culturally universal elements that nothing is lost in translation. Much of the story could have (and sadly, has) happened anywhere, and the film relies on far more than dialogue to deliver its message. (Its cross-cultural appeal is probably another reason for the film's Oscar win and its scores of other awards and nominations.)
The Secret in Their Eyes is easily the best film I've seen this year. Like the best crime dramas, it blurs the lines between the so-called good and bad guys, telling a compelling story and asking larger questions about the moral acceptability of breaking the law in the name of justice. And like the best films about human nature, it blurs lines also, creating complex, empathetic characters whose moral and emotional quandaries mirror our own.