Fantastic Fest: Opening Night Photos
The third annual Fantastic Fest opened last night with a big outdoor party, George A. Romero at a screening of his new film Diary of the Dead, and other fun films and events. The above photo is one of the attractions from the party, which stuck around after the party ended and into the night -- Ruben's Tubes, in which fire is controlled by sound waves from music. This was one of several exhibitions contributed by Dorkbot Austin for the party.
The opening-night party actually took place during the day, before the movies started, which was a great idea -- we could all meet people and chat and hang out without having to miss any of the films. The badge pickup was outside too, so when I showed up at Alamo on South Lamar, I encountered a lively setup: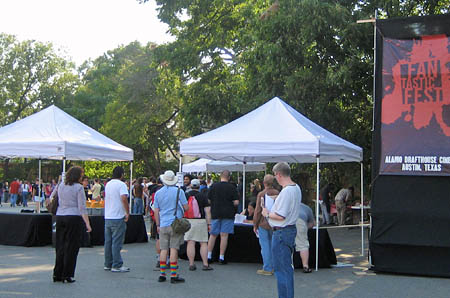 I picked up my badge, made my way through the party, and was just in time to see the Gore Cannon in action. I don't know exactly how it worked, but it shot bloody gore through the air in a spectacular way. One guy in a yellow raincoat was the target for most of the demos, but near the end, they decided to target Alamo programmer Zack Carlson. Zack obligingly stripped to his shorts and put on a helmet and goggles to prepare for the gore onslaught: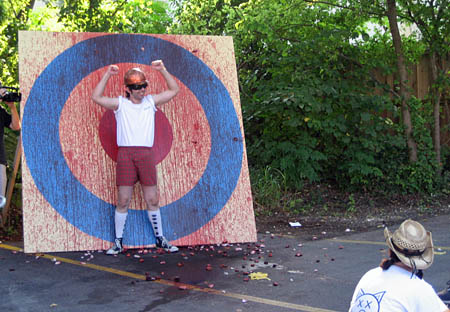 The cannon had a slightly delayed reaction, and ended up hitting Zack somewhere unexpected:
You can see video footage of the Gore Cannon on the Fantastic Fest blog. Fortunately Zack recuperated quickly, and was able to watch his boss, Alamo Drafthouse owner Tim League, as he savaged a pinata. Several pinatas were hung and broken during the party -- I think they were supposed to resemble celebrities, but I'm not sure. One was full of beer, and I think the one that Tim broke open was full of fake blood, guts, and a few eyeballs (after, I heard party emcee Henri on the microphone announcing that "Eyeballs are still available!").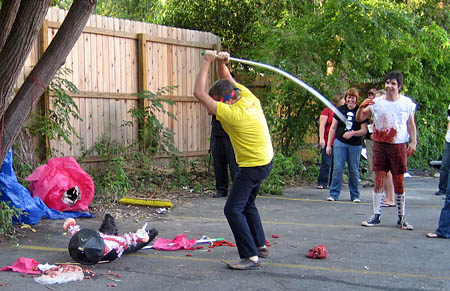 Soon everyone headed back to the theater itself for the big opening-night film, Diary of the Dead. Tim League was there to officially open the festival:
He introduced director George A. Romero, who talked a little about how this film does not continue the timeline in his Dead series, but returns to the beginning -- the night when the dead first came back to life. He warned us that this would be a "small" film, and in fact he'd originally planned it as a direct-to-DVD movie. Last week, The Weinstein Company bought the theatrical rights, so hopefully the movie will be showing in theaters around the country at some point.
Diary of the Dead played to a full and enthusiastic house, with occasional applause during some of the more creative or exciting zombie-death scenes. It is a low-budget movie, with a cast of mostly unknowns, but the occasional voices heard on the radio or TV were provided by well-known friends of Romero such as Stephen King, Guillermo del Toro, Simon Pegg and Wes Craven. (I didn't recognize any of them, I'm embarrassed to say, and now I want to see the film again so I can pick them out.)
After the movie, Romero stuck around for a Q&A session: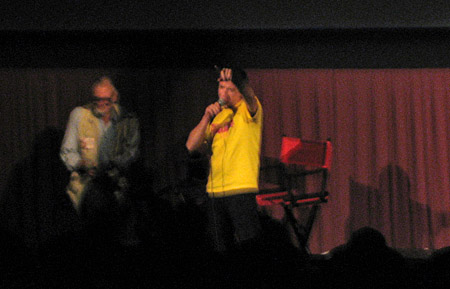 He explained that he decided to make such a "small" low-budget film because he didn't want to answer to anyone, like studios -- he wanted to make the movie he wanted to make, without interference. "This whole thing was an experimental gamble."
The most interesting discussion during the Q&A was about the "rules" regarding the undead in Romero's films. He said he is continually having to explain them to people, nearly 40 years after Night of the Living Dead: "Anyone who dies turns into a zombie, it doesn't matter if you're bitten." He later reiterated, "God, or whoever the f**k, won't let them stay dead."
The questions got a bit silly -- after one non-question, someone flippantly asked the director what his favorite color was. "What's my favorite color? Scotch!" That ended the session, and we all poured outside for some fresh air before the next round of movies. Romero was right out there with everyone else, chatting and signing autographs and generally being extremely accessible: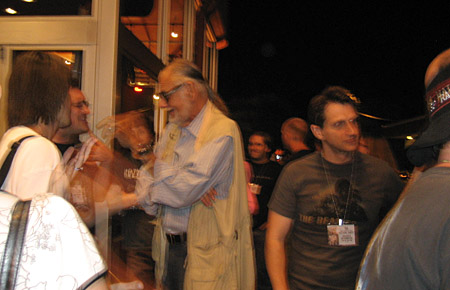 My second movie of the night was Finishing the Game, a mockumentary based on a real-life event: After Bruce Lee's death, producers decided to work 12 minutes of footage that Lee had shot for a film into an entire feature, using a body double. They went on a big search for a body double who would "be the next Bruce Lee." This fictional feature is about that search.
Alamo had planned to hold a Bruce Lee look-alike contest before the screening, but apparently no one wanted to look like Bruce Lee that night. So Alamo programmer Lars decided to hold a Bruce Lee "scream-alike" contest instead. About a half-dozen willing audience members took the stage to try to imitate some of Lee's best kung-fu noises, sometimes with moves to match. This was my favorite:
I believe she was the runner-up. If you want to see video highlights of the contest, check out the Fantastic Fest blog. After the contest, Alamo showed a trailer for the real-life movie Game of Death before Finishing the Game. It was a treat to see the trailer -- apparently the way in which they managed a body double for the film was to have Lee's character as a motorcyclist who spent a lot of time with his helmet on and the shield down.
The movie itself was fun, a mockumentary in the style of Christopher Guest, focusing on several ambitious men who all wanted to become the next Bruce Lee. I liked the B-movie actor Breeze Loo (star of Fists of Fuehrer) best. IFC has just bought the rights to this movie, so expect to see it in a limited theatrical release and on the cable channel soon.
I didn't stick around for a midnight movie because I'm a big lame wuss, but there are seven more days of Fantastic Fest ahead of us, with secret screenings and other events in store. Over at Spout, Karina speculates that one of the secret screenings may be Paul Thomas Anderson's film There Will Be Blood, and I've heard lots of other rumors too: The Mist, Where the Wild Things Are, 30 Days of Night, and others. I have a VIP badge this year so hopefully I'll be able to attend all these mystery screenings and let you know which titles we saw (and how I liked them).
I'm also posting reviews and features to Cinematical Indie for Fantastic Fest, so check back there for more fest coverage. I've already posted a collection of reviews of Fantastic Fest shorts, with a second installment that will be available soon.