SXSW Quick Snaps: John C. Reilly at 'Cyrus'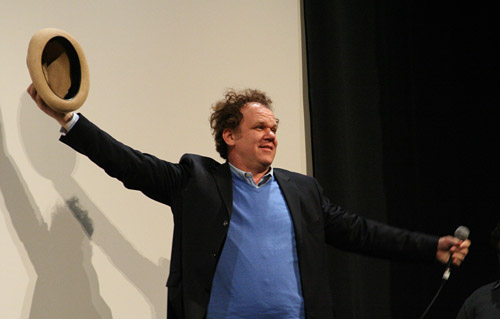 Some actors and filmmakers just walk on stage for a Q&A like any ordinary person. But John C. Reilly, after the SXSW Cyrus screening at the Paramount on Saturday night, added a little flourish and style, doffing his hat for the audience. It was a charming moment.
Reilly was joined in the Cyrus Q&A by filmmakers Jay and Mark Duplass, former Austinites, and actor Jonah Hill. In the film, Reilly's character falls for Marisa Tomei's single mom, a lovely woman with a son who Has Issues, played by Hill. The movie played to a full house at the Paramount. The Duplasses mentioned that they used to go to the Paramount a lot for the Summer Classic Film Series back in the day, and would never have imagined they'd be the ones on stage to a packed, excited audience.
"We've been waiting almost 20 years to show a movie on a Saturday night at the Paramount," Mark said.
The Q&A reminded me at times of the dorky Q&A at the beginning of Baghead -- no one asked about the budget and I don't think they asked how long the movie took to shoot, although some of the questions did sound familiar. One person asked a question for Marisa Tomei -- who wasn't there -- and Reilly picked up his phone and threatened to call her. Jonah Hill jokingly announced it was the "worst Q&A ever" and started critiquing people's questions, but in a way that was funny and didn't stop anyone from asking what they liked. (Besides, it is absolutely not the worst Q&A. I was at one of the worst Q&As in Austin last year and it was nowhere near this entertaining.)
Keep an eye out for my review of Cyrus (hint: I liked it) and my interview with the Duplass brothers, in which they tell me some very exciting film news with a personal twist. Here's one more photo of the Q&A.