Movies This Week: Renoir, Office Space, and a Garage Sale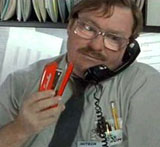 I've been out of town for a long weekend in the New Orleans area, where they really could use more indie/arthouse theaters, although that's not exactly a priority post-Katrina. Still, my youngest brother is terribly envious of the diversity of film choices we have in Austin, which is why I hope he doesn't see the following list. He's not going to be in a good mood until he gets to see Superbad, and that doesn't reach theaters for another 10 days. If he were here, these are the movies and film-related events I'd be telling him about:
The Paramount is showing Rules of the Game tonight and Wednesday, and I would love to see this Jean Renoir movie again, especially since it's a restored print. I can't go (I actually have to see Daddy Day Camp tomorrow) but you should all go for me and tell me how wonderful it is. Other Paramount movies in the Summer Classic series this week include a David Lean double-bill of Brief Encounter and Summertime on Thurs. and Sunday, Fellini's La Strada on Sunday, and Cocteau's Beauty and the Beast on Monday.
The "Sing-Along" version of Hairspray will be showing for the rest of the week at Barton Creek Cinemark (the one that's not in the mall). I still need to see the non-sing-along version myself, although I am wary after what happened with The Producers. (more films after the jump)
On the other end of the movie-geek spectrum from Hairspray: As part of the AFS@Dobie series, The Dobie is showing Johnny To's film Triad Election through Thursday. The Hong Kong film is a follow-up to Election (not the one with Reese Witherspoon, you goof).
Austin high-techies worship Office Space, and here's a chance to see it with a big responsive crowd. Plus, it's free! The outdoor screening will take place Wednesday night at 9 pm at Central Market as part of the 101X Summer Movie Series.
I am torn on recommending this one: The No Reservations Feast at Alamo on South Lamar on Wednesday night. On the one hand, the menu looks stunning and the money goes to the Capitol Area Food Bank. On the other hand, the movie isn't so hot. I'd say go for the food, and consider any entertainment derived from the movie to be lagniappe.
Nueva Onda's monthly movie night takes place Thursday at the restaurant at 8 pm. It's free, but get there early to take advantage of Nueva Onda's yummy dinner options. This month's lineup includes the documentary Hunky Dory and an episode of Austin Stories.
This week's Summer Kids Camp movie at Alamo on South Lamar is the lovely Howl's Moving Castle, at 11 am today through Thursday. Admission is free.
Finally, this isn't a movie but it certainly sounds entertaining. Austin Studios is holding another post-production garage sale, Wednesday through Friday at Stage 2 from 10 am to 6 pm. The sale is for props and set dressing from the film Stop Loss, aka Untitled Kimberly Peirce Project, which was filmed here in Austin. I loved going to the Fast Food Nation sale a couple of years ago -- lots of cool stuff to look at and buy. Update 8/9: Sorry, Austinist is reporting that this event has been cancelled.