Movies This Week: San Jose, Holes, Princess Bride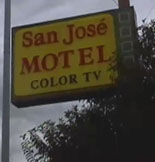 I swear, sometimes the most difficult part of Movies This Week is dealing with the title. It always seems kind of clunky. Anyway, let's jump right into a list of movies and events that look like fun:
Screen Door Film is showing The Last Days of the San Jose on Wednesday night at 7:30 at Salvage Vanguard Theater. Director Liz Lambert will hold a Q&A after the screening, and then everyone is heading over to the Hotel San Jose for cocktails. If you live in Austin, I can't recommend this documentary enough -- it's not just about the San Jose Motel, a S. Congress dive that Lambert had to manage while waiting for funding to tear it down and build a boutique hotel. It's about the transformation of S. Congress (I hate the term SoCo). Most of it was shot on Lambert's personal DV camera, but there are also some lovely shots of downtown Austin.
If you've ever wondered what all the fuss was about with Citizen Kane, you can see it in a theater and decide for yourself if its greatness is overhyped. The Orson Welles film is playing at the Paramount tonight and Wednesday, on a double bill with Touch of Evil. (Like last week with Dr. Strangelove, I keep brainstorming the best movie for a double-feature with Citizen Kane -- so far I've considered His Girl Friday shown before, or The Cat's Meow shown after.) More cool movies after the jump!
A free screening of The Princess Bride is taking place outdoors on Wednesday night, at Central Market. The movie will start when it gets dark, probably around 8 pm. Bring a blanket or something to sit on.
I don't know why I have the urge to see this week's Weird Wednesday movie (currently at Alamo South Lamar): The Sophomore Swingers. Maybe it's because I saw that "Swinging" triple-feature at Alamo Downtown in June. Maybe it's because it sounds like even Lars hasn't watched the movie. Like all other WW movies, it screens at midnight and admission is free.
Alamo South Lamar's "Kids Camp" film this week is Holes, which is a good movie no matter what age you are. (The Louis Sachar novel was the Mayor's Book Club selection in 2003.) Sigourney Weaver and Jon Voight make terrific villains. And remember when no one had heard of Shia LaBeouf? See it Thursday at 11 am for free.
This week's AFS@Dobie offering is I Don't Want to Sleep Alone, which is playing all week at The Dobie. AFS members, you get a discount on tickets if you show your membership card. Dobie is also showing Broken English (which I'd really like to see, perhaps as an antidote to No Reservations), Sicko, and Paris Je T'Aime.
We saw Ocean's Thirteen, finally, at one of the few remaining theaters in town still showing the film: Alamo Lake Creek. It was a charming, lightweight summer movie -- not as good as the first one but much better than the second one. I want to see it again to catch any details I missed the first time. It's going to continue at Alamo Lake Creek for another week (although it's screening only once or twice daily), and I think it plays better in a theater than it would on DVD. So ... go see it.