Quick Snaps and News about Phil Mucci and 'The Listening Dead'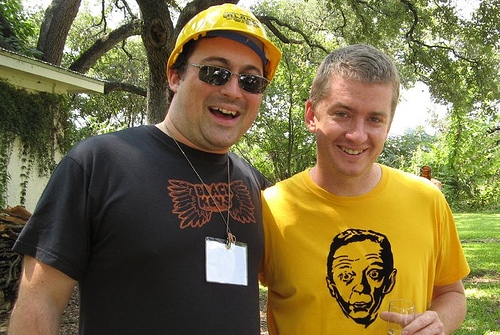 I receive updates every few months from photographer and filmmaker Phil Mucci, whom I met in 2006. Phil's short horror film The Listening Dead took the Best of Show award for short films at Fantastic Fest that year. Four years after its initial release, this short film has been translated into eight different languages. Phil has just announced that a "behind the scenes" short film on The Listening Dead is now available and can be viewed on his website. You can also watch his videos and short films, including Far Out, which screened at Fantastic Fest 2007.
That's Phil on the left with Alamo Drafthouse impresario Tim League at a filmmakers brunch during Fantastic Fest 2007. Note that Phil is sporting my "Last Night at the Alamo" hard hat that was given out to the audience for the special screening of Earthquake in Sensurround.
[Photo Credit: Phil Mucci and Tim League of the Alamo Drafthouse, courtesy of Debbie Cerda]