Smokers' Delight: Breathless at Alamo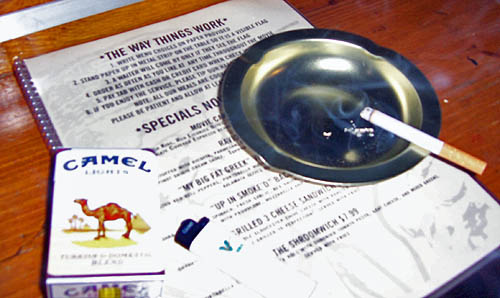 [Scott Henderson ­reports on one of the last unique film events at the now-closed Alamo Drafthouse Downtown on Colorado.]
There was something particularly apt that screening a film which heralded a new beginning in cinema might also hark the beginning of the end for the original downtown Drafthouse. And so it was that, despite the health warnings, Jean-Luc Godard's timeless À Bout de Souffle (Breathless, 1960) played to a full house of nicotine-addicted patrons gleefully breaking the law for the special "Thank You for Smoking" event.
More than simply apt though, there was also something romantic about the penultimate night at the Alamo Drafthouse -- a dirty kind of romance for sure, but romance nonetheless. Wisps of cigarette smoke illuminated the projector beam overhead and the flicker of lighters sparked delight amongst the audience as old anti-smoking public service announcements preceded the main attraction. Who says Americans don't do irony?
The Drafthouse's online preview for the event proclaimed, "We all know that smoking doesn't actually make you cool. But if Jean-Luc Godard's classic Breathless is any indicator, it sure does make you look cool." Of course, had the theater's sprinkler system activated we all might have been left to question that statement, but Tim League was on hand to assure us that wouldn't happen -- albeit unconvincingly.
The film itself went down a treat, which is surely more than could be said for food anyone tried to eat in the polluted room. When the lights went back up the difference of clarity in the room was quite unbelievable and if you ever needed a physical demonstration of the benefits of a ban on smoking indoors, this was it. Not that anyone cared, after all, how could you while watching a film about indifferent criminality.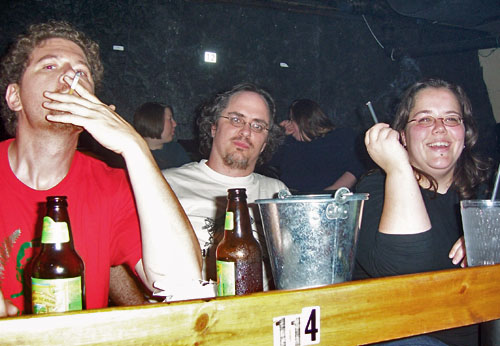 ­­