New Film Series Focuses on Local Community Issues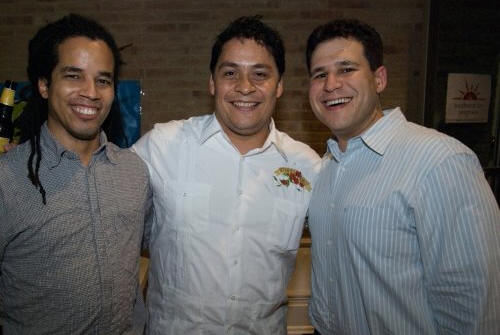 Like most people, I've been vaguely familiar with the national non-profit organization United Way all my life. Several years ago I was fortunate to meet and get to know Mando Rayo (in the center of the above photo), Director of United Way Capital Area volunteer match program Hands On Central Texas. In response to a Facebook message from Mando, I volunteered for the 2-1-1 Texas phone bank during Hurricane Ike -- one of the most humbling and memorable experiences in my life. That's just one of the many innovative ways that the United Way Capital Area is using social media and other forums to bring folks together to address critical social issues in our community.
This spring, United Way Capital Area will introduce their Live United film series in Austin. This series, co-hosted by Austin PBS affiliate KLRU-TV, provides Central Texans an opportunity to explore critical community issues such as education and financial stability through film and dialogue. Each film will include a panel discussion with community leaders and issue experts in the field. In addition to enjoying film and meaningful conversation, audience members will receive a list of resources and opportunities about the issues being addressed and ways to promote change in our community.
It All Adds Up will be the first screening, and will be held on January 28 at 6 pm, at the Austin City Limits Studio 6A in the CMB building on The University of Texas campus. This documentary, produced by Academy Award-winning director Sue Marx, profiles the teachers and students of Wayne State University's "Math Corps," a groundbreaking organization that partners struggling middle and high-school students from Detroit's public schools with collegians, who help teach vital math and life skills the kids need to succeed. More than 90 percent of Math Corps students graduate from high school, and more than 80 percent attend college. Considering that one in four AISD students entering ninth grade won't graduate, the message of It All Adds Up is critical in our community.
Mando Rayo will introduce the film, and afterward, local leaders in education will discuss how to apply these principles right here in Austin. The audience will also hear firsthand from a young person dealing with the issues highlighted in the film.

The Live United Film Series panelists include:
Clayton Christopher, CEO of Sweet Leaf Tea
Liliana Ary, Client Service Director at Univision Radio
Dr. Michael Marder, Physics Professor at The University of Texas at Austin
Jason Sabo, Senior Vice President of Public Policy at United Ways of Texas.
Light hors d'oeuvres and beverages will also be provided, but you must RSVP here.
[Photo credit: Rich Vazquez of Lights. Camera. Help., Mando Rayo of United Way Capital Area and Dave Shaw of Greenlights for Non-Profit Success, at the Reel-to-Reality 2009 event, by Jonathan Garza, courtesy of Giving City]